Get ready for best behavior during training with Dogsee Chew's Coconut Mini Pops. Handcrafted in the Himalayas using real coconuts, these super-delicious treats help make training a breeze. So when you're practicing commands over and over, your dog will be happy to keep doing them just to get one more taste! And being 100% natural, rich in dietary fibres and protein, these coconut training treats help maintain a healthy gut and provide energy, making training a nutritious and fun experience.

Key Benefits
Dietary fibre helps in maintaining a healthy gut.
High protein content helps provide much-needed energy to focus during training.
Low in Fat so you don't need to worry about your pup packing on the pounds.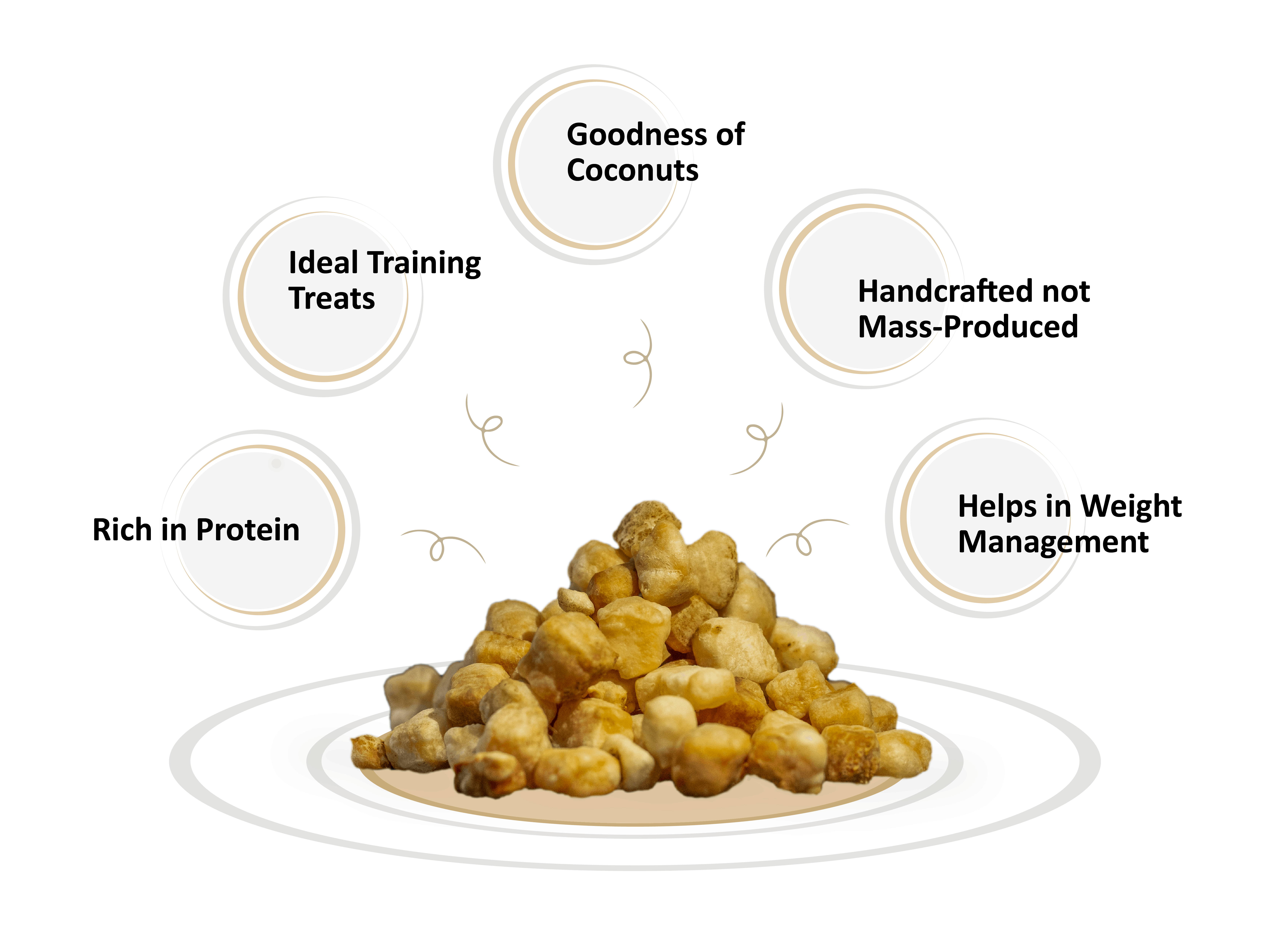 Coconut, Yak and/or Cow milk with lime juice and a hint of salt.
Crude Protein: Min 59.2% Crude Fat: Min 5.2% Fiber: Min 5.9% Moisture: Max 10.0 %
---
Reviews
Saumyabrat Bora
8 months ago

My fussy puppy eats only this flavour of wet dog food so I'm assuming the flavour's on point

Chandrama Datta
8 months ago

Good product. My dog is eaten faster. My dog says flavour is tasty.

Rhutuja Mote
8 months ago

For all dog owners, this gravy is a taste enhancer so add this in ur daily pet diet.

Nayomi Amaria
8 months ago

Its smell is irresistible when the packet is opened. Dogs cannot control themselves. Good product

Saumya Puri
8 months ago

It's definitely a good dog food. Purchasing regularly.

Sanjana Udupa
8 months ago

One of the best product for my dog... my dog simply loves the flavour... highly recommend.... without second thought u can try .../

Vennu Vyshnavi
8 months ago

Quality and packaging are perfect. My dogs love it. However, wish the quantity was more.

Alana Rose
8 months ago

My dog golden retriever loved it.

Aarushi Jain
8 months ago

The product is good. My dog just loves this and whenever he gets this he's happy. Good packaging too.

Priyamvada Makaraju
8 months ago

My dogs love this, got it for slightly cheaper than the mrp, packaging and delivery was no issue.

Astha Saxena
8 months ago

This is quality food with tasty flavor for our dogs. Specially for those which get bore easily by daily food.