Reward your dog with a boost of turmeric goodness with Dogsee Chew's Turmeric Mini Bite-Sized Dog Training Treats! These delicious goodies are handcrafted in the Himalayas with 100% natural ingredients and contain powerful antioxidants and protein for a guilt-free treat. The curcumin present in turmeric helps support immune and joint health, while the low fat content keeps your pup from packing on the pounds. They are also optimally sized, so you can grab a handful and make rewards all the more exciting for your little one.

Key Benefits
Low in Fat to help with weight management, so you can give them as many treats as you'd like.
High protein content that helps provide your little one with much-needed energy.
Curcumin supports healthy joints and stronger immunity.
Bite-sized to use as training treats and make training fun and rewarding.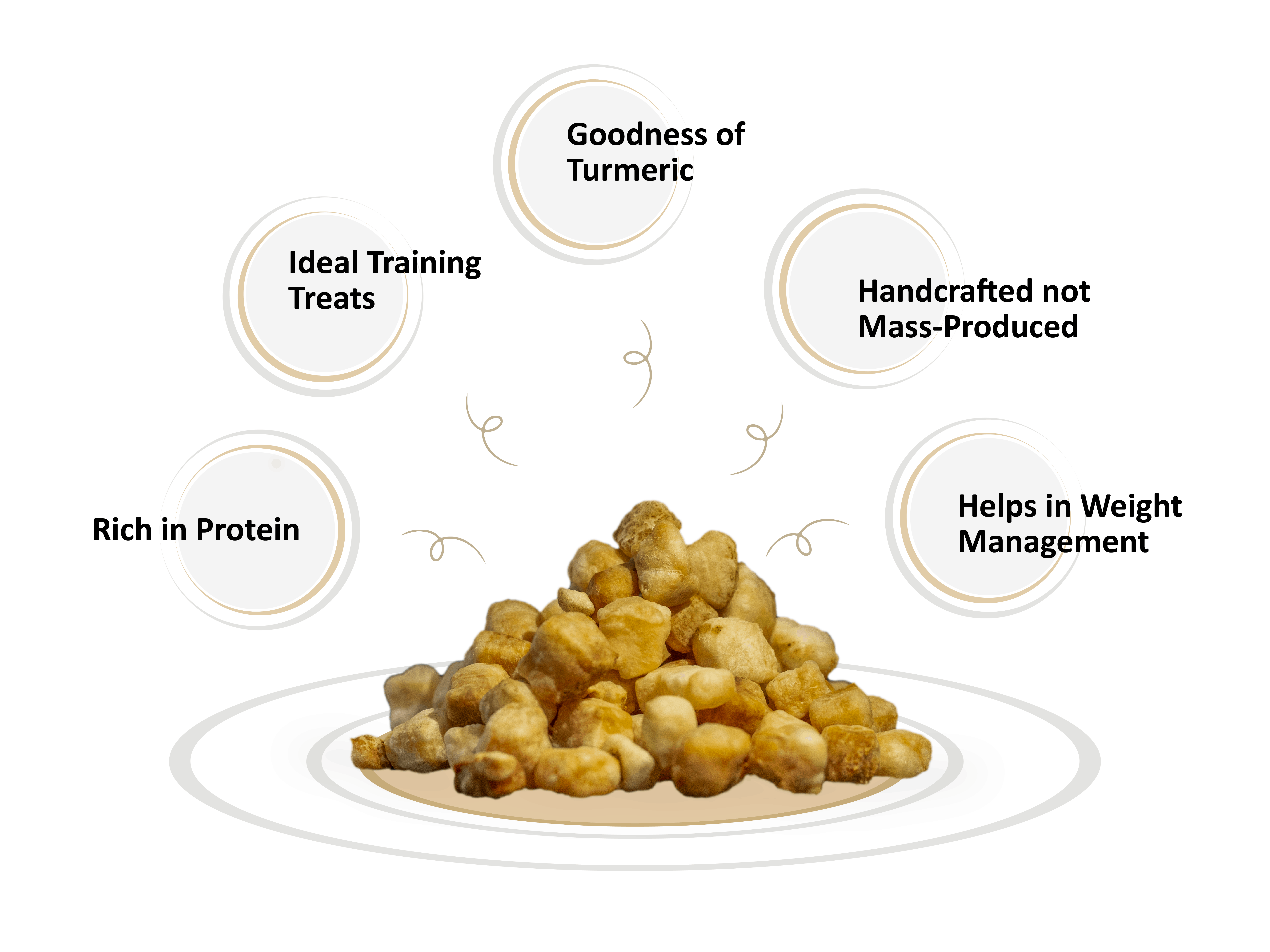 Real Turmeric, Yak and/or Cow milk with lime juice and a hint of salt.
Crude Protein: Min 59.2% Crude Fat: Min 5.2% Fiber: Min 5.9% Moisture: Max 10.0 %
---
Reviews
Akshara Khare
1 year ago

Really amazing dog food with great results My dog love it we can give wet or dry depends on our dog's digestive health Got it as expected with no delivery issue And good packaging.

Rahul Ajith
1 year ago

The product is loved by Labrador. So I think flavor is awesome by judging curiosity and eagerness to eat it by my pet Pluto. Also I was packed nicely and the freshness was taken care of properly. I would recommend buying this if you have any trouble making chapati for your pet in the morning. Best value for money product

Rijul Srivastava
1 year ago

Initially my dog hesitated but over a time he started liking it. A sense of relief, as my dog is very particular and selective in eating.

Sushmita Chauhan
1 year ago

Awesome product for dogs. Don't know about flavour coz i didn't eat it :D but my dog loved it!!! He was so happy, swinging his tail in every direction so i guess it must have taste delicious to him!

Vudaru Sumanth
1 year ago

My 3 year old lab loves this flavour. Been buying this for two years.

Khushi Kapoor
1 year ago

A trusted product at affordable price and the quality is also impressive.

Sulagna Sambita
1 year ago

I don't know about flavor 😂 but my dog likes it very much. A quality product at a great price. Tried other brands also but didn't suit to my dog very well.

Simran Arora
1 year ago

My labrador really like this product.

Divya Singh
1 year ago

Good product and highly recommended.

Haynes Sunny
1 year ago

I was hesitant to buy this for my Indian pariah. Since two years he was having other brand food once in a day. But ordered this last month and he seems to like this also.