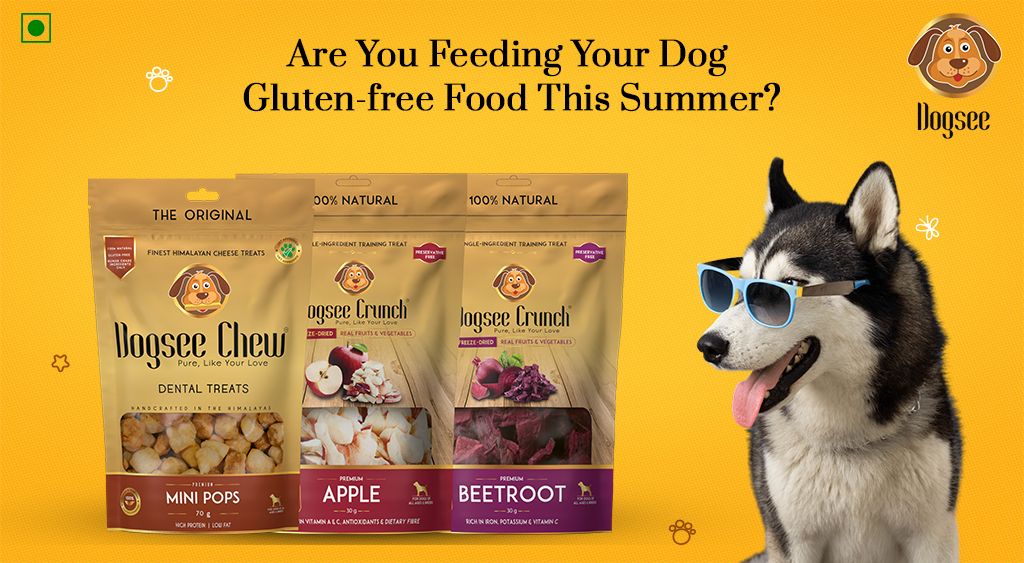 The current decade has become more aware of their own and their dogs' food requirements. That is why they feel compelled to feed their dogs nutritious, gluten-free dog food, grain-free, cereal-free, and vegan diets (foods).
Gluten is a glue-textured protein found in certain types of grains such as wheat, rye, and barley. Therefore, we may conclude that gluten-free dog food is free from these proteins, but all grains do not contain gluten, so it cannot be certain that it's grain-free….
It concludes:
Gluten-free dog food may be grain free

Grain-free food will be 100% gluten-free
Gluten-free and grain-free food is in high demand these days, as more people are concerned about the health of their pets and their dog nutrition. It is the safest type of food to include in your furball's diet to keep them healthy, active, and energetic. Some dogs are allergic to certain treats due to the presence of a few ingredients such as grain and gluten, so they must follow a gluten-free diet. Regardless of the allergy, including gluten-free foods in their diet would keep them active and healthy.
Gluten-free products are lining the shelves of grocery stores these days, but it's clear that many pet parents are misled, confused, and overwhelmed when it comes to choosing the best food for their furry family members. That leaves individuals still unaware of what to choose and the health benefits derived from various products available in the market.
Gluten-free food has numerous health benefits when combined with regular workouts and fitness.
Gluten-containing foods have several negative effects on humans. Similarly, it is harmful to dogs. All of the below symptoms can be seen in pets as well, as they are more sensitive to such foods. If the symptoms go unnoticed and untreated, the consequences could be disastrous.
As 1% of the population of humans face the problem of coeliac disease due to gluten-full food, dogs don't suffer from this disease.
When it comes to gluten tolerance, dogs appear to be completely fine, with very few side effects. However, gluten and grain sensitivities do occur, albeit infrequently, so keep an eye on your dog after meals for any signs of intolerance.
The following are some symptoms of grain/gluten allergy in dogs:
Patches of baldness

Itchiness

Excessive hair loss

Scabs and sores

Inflamed skin

Hot spots or moist dermatitis
Even though most dogs tolerate gluten well, you may want to choose a gluten-free dog food for digestive reasons. Certain grains, such as wheat, which contains gluten, aren't as good for your dog's digestive health as others.
As a result, you may want to select a dog food that does not contain gluten-containing grains or a good gluten-free food option.
Some of the benefits of including grain/gluten-free food in your dog's diet are:
Source of Energy: When gluten is present in a food, the vitamins and minerals are usually lost; however, gluten-free food keeps the minerals and vitamins of other food items intact and provides more dog nutrition to your dog's health.
The energy in 100% natural and gluten-free dog treats is essential for an active and growing dog. It gives your dog a balanced diet, aids in their growth, and development, and weight management gives them a health treatment, and fulfills calcium supplements for dogs.
Great in Taste: Artificial colors in processed and gluten-rich treats alter the flavor of colorists or chew sticks; flavor meats that are free of grain or gluten are usually tastier than other treats. Dogsee offers grain and gluten-free treats that are vegan, 100% natural, and ideal for your dog's summer snack with great taste and flavors while being the best dog treats in India. It also strengthens your pet's immune system and keeps them fit and strong.
Healthy Digestive System: Gluten, as heavy as it may sound, is difficult to digest, and several allergies associated with it are harmful to your dog's health. A dog's overall health is determined by its digestive system.
And this heavy compound is difficult for your dog's tummies to digest. So gluten-free food not only provides fewer compounds to digest, but it also improves the digestive system, which improves your dog's health and keeps them satisfied.
You can go ahead and check out this page, for many more good digestive food options for your dogs!
Helps in Weight Management: Being overweight puts our pets at risk for arthritis and reduces their life expectancy.
Keeping this in mind, weight is one of the most important concerns in adult dogs, and it is critical to keep your dog's weight under control for a healthy life ahead.
Including preservative-free and gluten-free food, or healthy dog treats that contain both, in your pet's diet aids in weight management. This high-protein (59.2%) and low-fat (5.2%) treats are 100% natural, free of grain, gluten, and preservatives, and contain all-natural and high-fiber ingredients, which keep your dog full for longer periods and aid in weight loss and management.
Gluten-free may appear to be a luxury rather than a necessity, but it turns out that it is a necessity for your dogs this summer to keep them fit and healthy while avoiding some irritating diseases.
The inclusion of gluten-free and grain-free dog food can make a significant difference, as any concerned pet parent can attest…
And Dogsee makes dog treats that are unprocessed, grain-free, and gluten-free dog food, which solves all of your dogs' problems, as being the best dog treats in India. These treats are also free from chemicals, preservatives, and additives and are rich in calcium, and protein, and provide all the dog nutrition. It is always prudent and safe to feed your dog the recommended amount, and regular exercise combined with healthy treats as dog feedings will benefit them greatly!
---
---