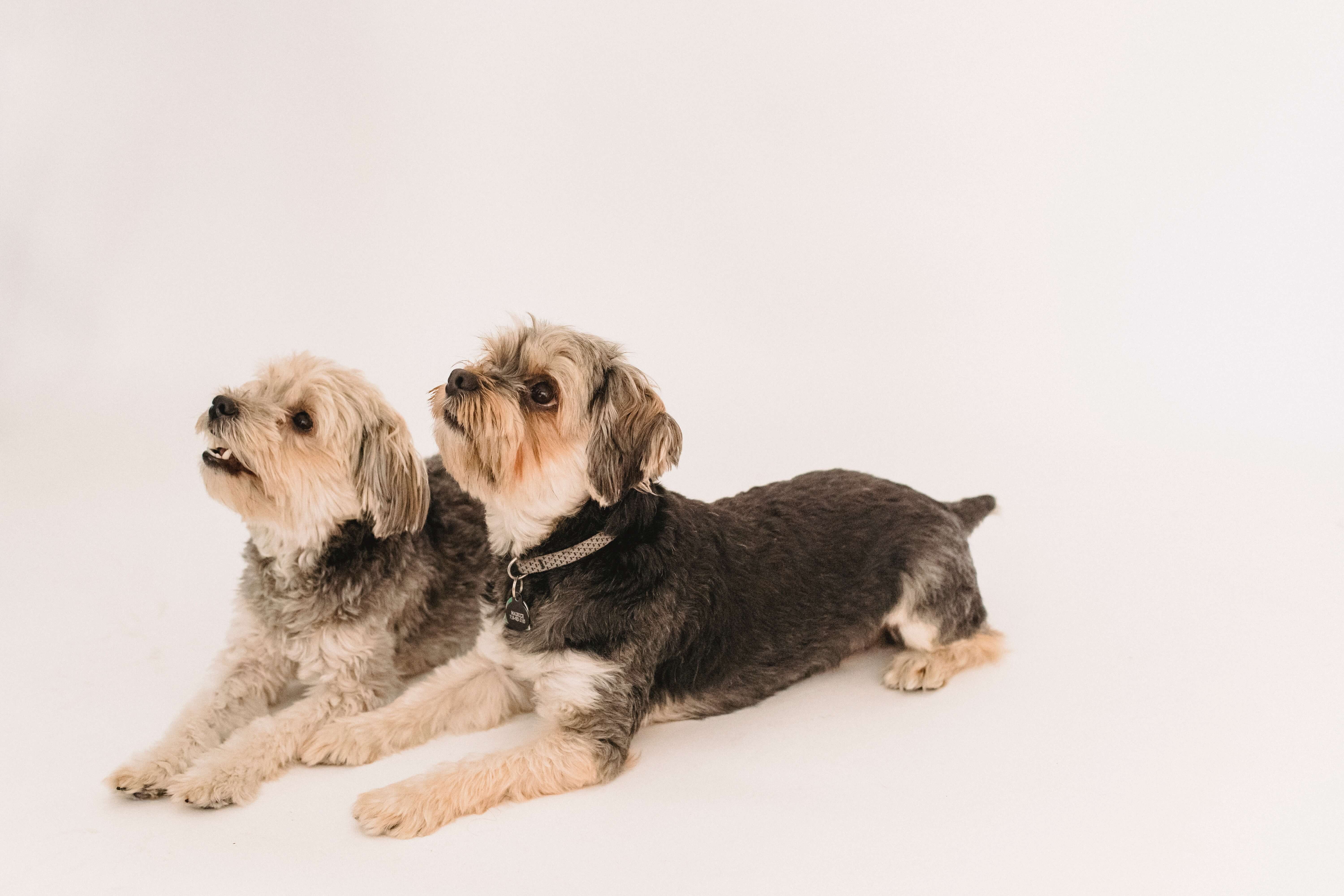 Just like humans, dogs too need a healthy intake of protein. Protein in a dog's diet is essential as it helps to run all body processes smoothly. When your doggo receives his healthy intake of proteins it helps by speeding up muscle repairs and strength development. Proteins also help in growing and maintaining tissues, and other essential activities in the body. The exact protein intake differs from dog to dog depending on factors like their weight, breed, amount of physical activity, etc. So it is important that your dog receives the best-balanced meals with the right amount of proteins.
There are 10 amino acids that are essential for dogs; they are typically derived from animal protein sources ( like chicken, beef and pork). Although they are easily accessible, they may have a negative effect on your dog's health. Animal meat may cause your dog to experience skin allergies and in certain cases indigestion and food poisoning. Which is why vegetarian food would help your dog gain the nutrients he requires but also have a delicious meal without any consequences. If you're worried about your dog receiving his required amount of proteins through his veggies, here is a list of foods that would surely meet your dog's protein requirements. We at dogsee have.
7 Foods from Dogsee Chew that would make your dog stronger than ever!
1. Soy
A protein rich food that is sourced from the soybeans, and surprisingly most commonly found in dog food. Soy can act as a protein rich substitute to meat with an added bonus of being rich in fibre. The fibre helps the digestive system function well or repair itself quicker. Soy also has a lot of vitamins and minerals that would definitely prove to be healthy for your dog. Half a cup of cooked soy (about 11 grams) would provide a high protein meal for your dog.
2. Quinoa
Although regarded as a seed quinoa is a nutrient - rich grain. It is also your safest plant based complete protein, which has less protein to volume ratio compared to most animal alternatives. A cup of quinoa would serve your pup 8.14 grams of protein.
3. Buckwheat
Although it has the word wheat in it, buckwheat is not exactly wheat. Surprisingly it's a gluten-free seed that's rich in iron, copper, potassium, and magnesium. Buckwheat serves a large amount of protein that guides your dog's health and makes him stronger. A cup of well cooked buckwheat serves 4 grams of protein.
4. Chickpeas
These legumes are also famously known as garbanzo beans.They are rich in fibre and easily digestible. They are also rich in carbohydrates and proteins which help your doggo build strength for his activities. You can get 20 grams of protein from a cup of cooked chickpeas.
5. Barley & Oats
Barley is as good a source of protein as quinoa. Barley contains low cholesterol and high fibre. A cup of cooked barley serves about 4 grams of protein. Oats, the most commonly used cereal, are an excellent source of fibre and carbs. They are also a great source of proteins that would help your dog gain sufficient strength. They can be used as an alternative to wheat. A cup of rolled oats serves 10 grams of protein.
6. Green Peas
Green peas are one the best sources of not just protein but also fibre, minerals and other nutrients that are essential for your dog. A cup of cooked peas serves about 8 grams of proteins.
7. Cheese
Although cheese isn't usually a primary ingredient in most dog foods, it can be a great additional source of proteins for your doggo. If you're rewarding your dog with cheese as a treat or adding it to their food, the kind of cheese that is best for your dog will depend on his needs. However, if you are looking for a safe and healthy cheese treat for your dog try going for Himalayan dog treats. Below are a few interesting himalayan treats if your dog is cheese-crazy.
Dogsee Puffed Bars- Soft Dental Treats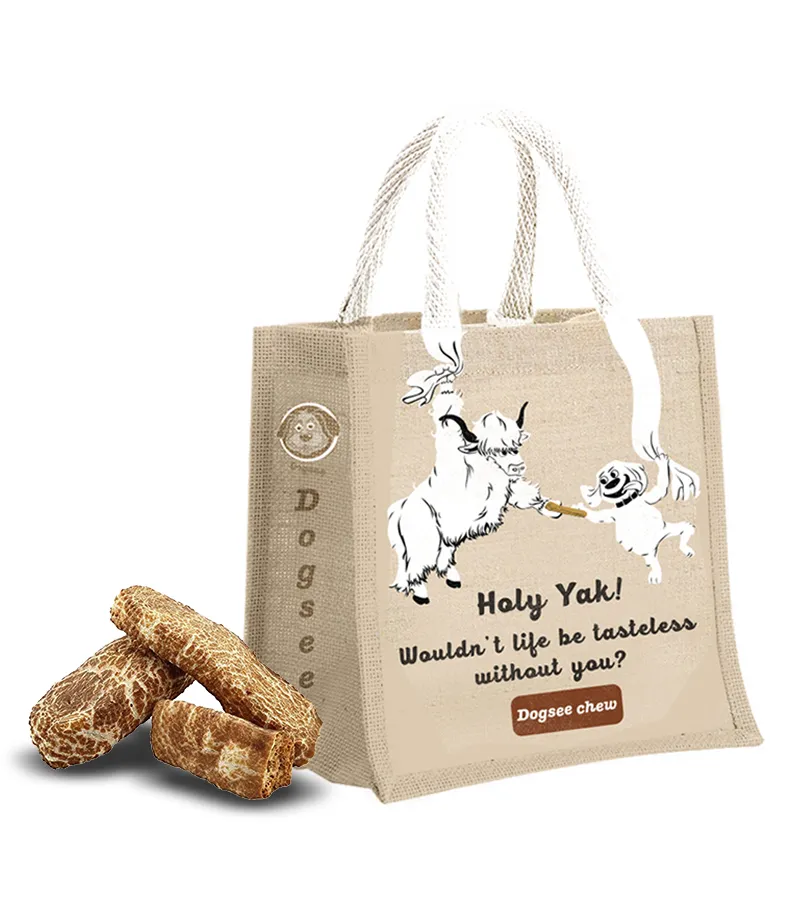 Treat time is a dog's favourite time, whether they're young or old. Your senior dog can now join in the fun of enjoying treats that have been puffed to perfection! Dogsee Chew's Puffy Bars are made in the Himalayas with 100% natural ingredients and smoked and sun-dried for over 35 days to achieve the right smokey flavour and texture. These treats serve as a great source of proteins ( 60% ) and are low in fat. As they are dental treats they also help in removing plaque and tartar build up. The yak milk also contributes towards the growth of a healthy and shiny coat. This treat ensures a guilt-free reward for yoru doggo.
Puffies - Bite size training treats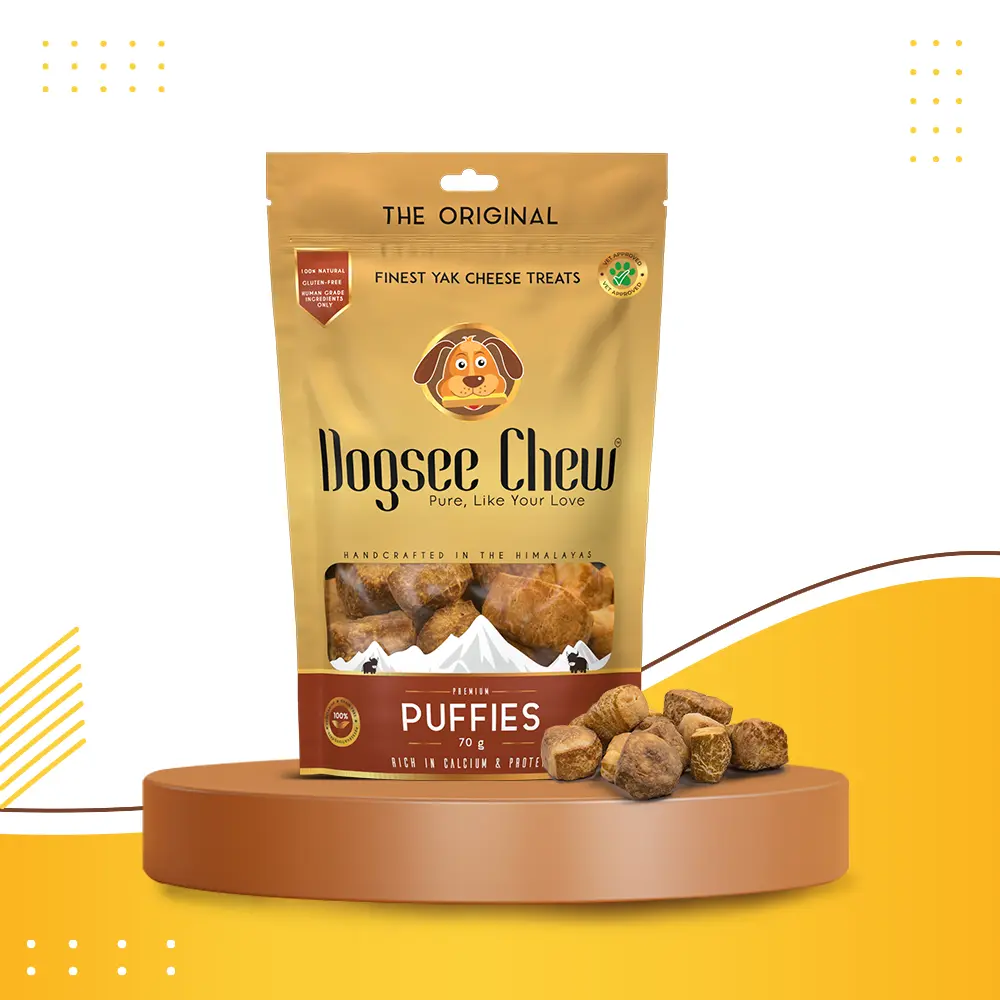 Dogsee Chew's finest dog treats can make your training sessions with your little one a lot more interesting and fun. These cheesy soft dog treats are handcrafted and obtained from the Himalayas, where they are smoked and sun-dried to perfection for over 35 days to achieve the perfect flavour and texture, making them ideal for puppy training. These bite-sized treats are easy to feed and have a delectable cheesy flavour that will make your furry friend go crazy. These treats are the finest dog treats in terms of nutrition since they are high in protein and calcium, which provides energy, and low in fat, which helps keep the dog's weight in check.
Conclusion
All dogs are different from each other and therefore require different diets. The aim of having a good diet is to ensure the best health for your dog. Introducing doggie treats that are made of natural ingredients help your dog get the healthiest, chemical free nutrients.
---
---