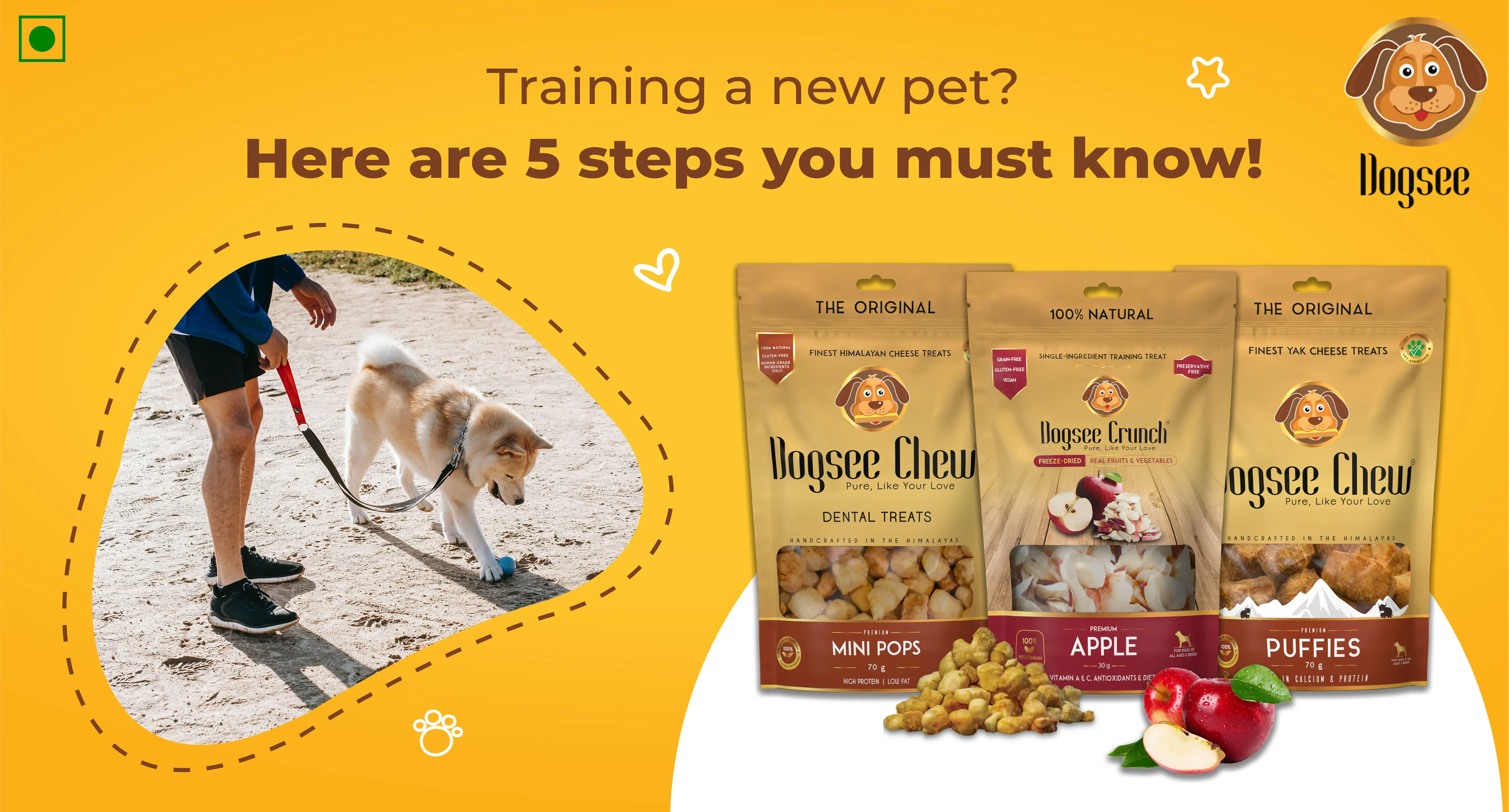 Well, it sure sounds like a tedious task of training a new pet, as most of the Genz, millennials, and even adults get a new puppy into their lives but find it hard to get them the right training.
Appropriate training and socialization are among your dog's basic needs, as they must be included in daily activities such as sitting, staying, and going to their kennel, as well as going to poop outside. And also they should be eating their pet treats on time and also start interacting with other dogs and humans!
A well-trained dog is also a much happier dog! Why? Because a trained dog has fewer constraints. The more loyal and trustful the dog becomes, the more freedom he gets from the parent.
Furthermore, he receives more attention from family members and visitors, than the ill-mannered dog, which leads to a happy you!
Dog training can be daunting at first, particularly if this is your first dog. The truth is that training your dog may sound like an easy task, but trust us, it is not! You will find the task less intimidating if you tackle it step by step.
Fact: "Most dog owners believe their dogs are better taught than others' dogs"
Few Things To Keep In Mind, As Dog Training Tips For Beginners:
Start a Dog Obedience Plan: Discover how to lay a solid foundation before you begin training your dog and becoming an expert pet parent.
Teach Your Dog With Games: Training your dog should be enjoyable! Everyone knows that having fun makes learning easier, so consider incorporating some games into your dog training routine.
Positive Reward Systems: There are numerous methods for training a dog, but most dog professionals believe that the positive method is better for both the dog and you!
And here are a few good dogs treat recommendations that can help you with these training sessions!
Dog Training 101
1. House Training For Dogs:
House training is one of the first things you should do with your new dog, and crate training is a crucial part of that.
Crate Training is defined as keeping your dog in a confined area when you are not present, as it teaches them to stay in limited areas. Most dogs do not excrete in the same place where they sit, so this will not be an issue.
Crate training should be kept upbeat. Slowly introduce your puppy or adult dog to the crate. Fill the bottom of the crate with something soft and some of your dog's treat toys.
Throw some delicious dog treats inside. Let your dog explore the crate at its speed rather than forcing it to enter.
Household Training: Every meal, nap, and playtime requires a toilet break for puppies. Most dogs eat many times every day, depending on their age and breed.
Avoid accidents by predicting when the puppy needs a break and training them at home first, establishing a timetable, and determining the number of potty breaks based on their age and needs.
Second, choose a site and make an inside toilet spot using newspaper, pee pads, or a canine litter box, or choose an outside area and carry the dog there every time. Finally, whenever the dog squats, repeat a cue phrase that identifies the activity.
After the puppy has been productive, lavish it with praise, play, or a small treat that does not interfere with its usual diet.
2. Dog Leash Training:
Every dog must learn to walk on a leash. Aside from the fact that most regions have leash restrictions, having your dog on a leash will be necessary at times for his safety. Discover how to introduce your dog or puppy to the leash, then show him how to walk properly on the leash, even while riding a bike alongside you. A stroll on a loose leash teaches your dog not to pull or lunge while on the leash, making the experience more pleasurable for both you and your dog.
And for some good and unique tips follow Instagram and Facebook page!
3. Socializing Your Dogs With Other Puppos and Humans:
Socialization is the process of teaching your puppy or adult dog to accept new people, animals, and locations by exposing him to them.
Socialized dogs are less likely to develop behavioral issues and are often more popular. Socialization can also help your dog to get rid of fears and phobias.
The best part is that it will make your dog happier and more behaved
4. Use of Dog Clicker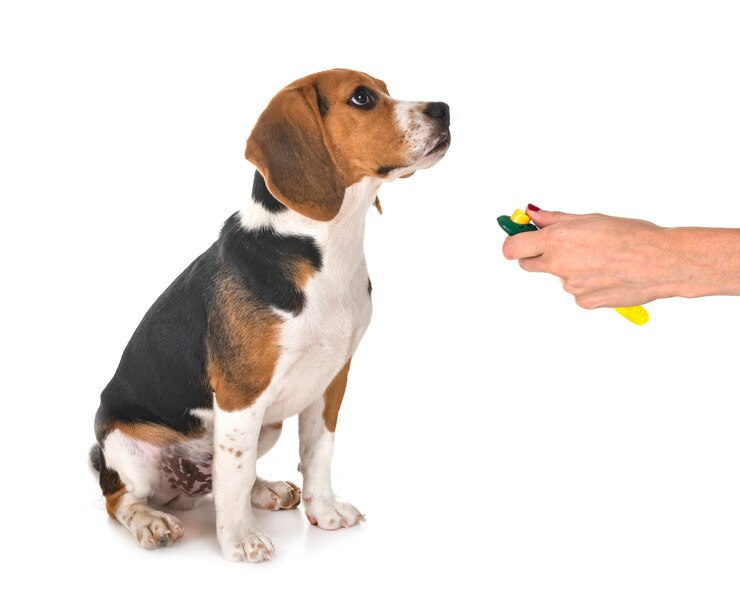 Positive reinforcement for dogs is commonly achieved through clicker training. This easy and effective training method makes use of a little device that trainers use to click when the dog exhibits a desired behavior. The click is faster and more distinct than simply saying "excellent dog," and it is far more effective than training with only goodies.
~When pressed, a dog training clicker is a metal strip inside a little plastic box that generates a characteristic clicking sound. Dogs learn that the sound of the click implies a positive affirmation throughout training.
5. Basic Commands and Fun Tricks
Every dog should know some basic dog training commands and skills, such as come, speak, drop it, stay, and back up. Basic commands provide structure for your dog.
They can also help you get rid of dog behavior issues and keep your dog safe and sound. What could be more fun than training your dog new tricks?
Training Treats for Dogs aid in the development of these commands and enjoyable tricks. Throughout the process of teaching them the commands, you always can praise them by giving them a dog treat, each time they perform the task completely!
And these dog treats, from Dogsee, can be provided in reasonable quantities because they are 100% natural and free of preservatives, grain, and gluten-free, and obtained from Himalayan Cheese, making them the greatest dog treats available in India. These extra goodies might be beneficial in educating your new canines…
Keep in mind that training is a constant process. You will never be done. It is critical to continue working on training throughout your dog's life.
Individuals who learn a language at an early age but then stop speaking it may forget a lot of it as they get older. And it's way too hard to unlearn something than learning the correct way in the first place!
It's the same with your dog: use it or lose it. Going through even the most basic tricks and commands will help your dog remember them. It's also a fun way to spend time with your dog. And with little persistence and daily hard work, you can easily teach your dogs all the habits you want to inculcate in them and will see how good these best friends are…..
Here's a guide on
how training treats can help your dog
in many ways!


---
---