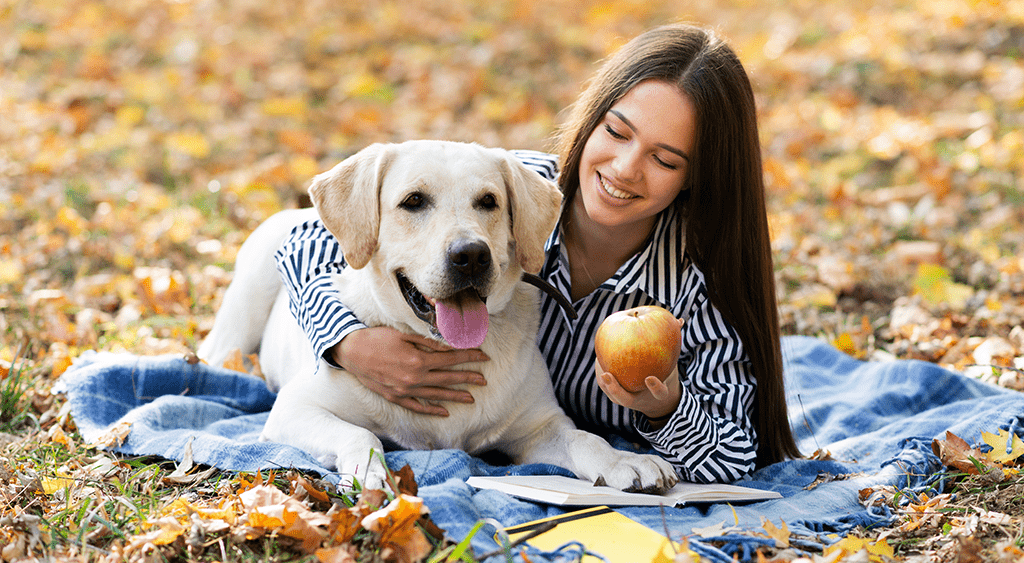 Searching for all-natural dog treats for your doggo? If your dog is a fan of crunchy and sweet apples we have just the right treats for you! Apple dog treats are usually mixed in with other ingredients like peanut butter, which makes it hard to find simple apple dog treats for your picky eater. Now, let us put your mind at ease and tell you that we have the perfect apple dog treats for your apple-lover dog that are not just nutritional but also all-natural. Dogsee Chews' freeze-dried apple dog treats are perfect treats that guarantee a happy and healthy doggo.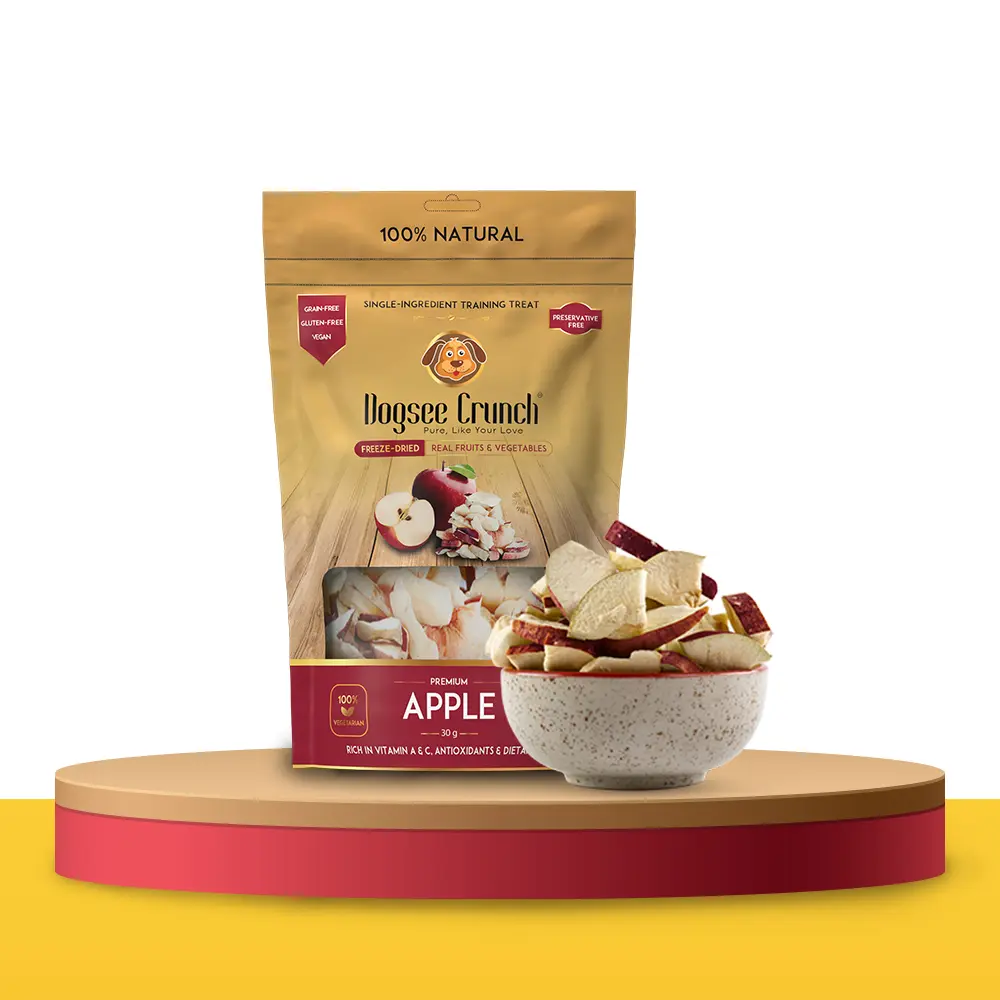 How its made
Here are treats that will keep the doctor away. The freshest apples picked from the finest orchards help make these treats super delicious and healthy. They are cut to treat-sized shapes and are freeze-dried. These all-natural dog chews are the best crunchy treats that your dog would ever taste.
These treats do not contain any apple seeds, which we know are extremely harmful to your doggos' health and may even cause choking.
As apples are low in calories, these all-natural dog treats are perfect for your dog especially if they need to lose or maintain weight. They are also a great way to satisfy your dog's sweet tooth. Chewing on pieces of apple can also prove to help improve your dogs' dental hygiene.
What is it made of?
Now you may be wondering if freeze-dried products are healthy for your dog, and we can guarantee you that it is. These simple apple dog treats are freeze-dried to retain all of the nutritional values that are usually lost in other processed dog treats. The best part is they're made with apples and nothing else! Looking into the actual nutrition composition of these treats they're made up of:
Protein - 2.1%

Dietary Fibre - 12.7%

Fat - 3.7%

Moisture - 3.6%

Ash - 0.02%
Each pack made of 100 gms ( 4035 kcal ) contains vitamin A that helps develop and maintain your dogs' skin and keeps their coat shiny. The vitamin C found in these treats helps boost your doggos immunity.
Feeding Guide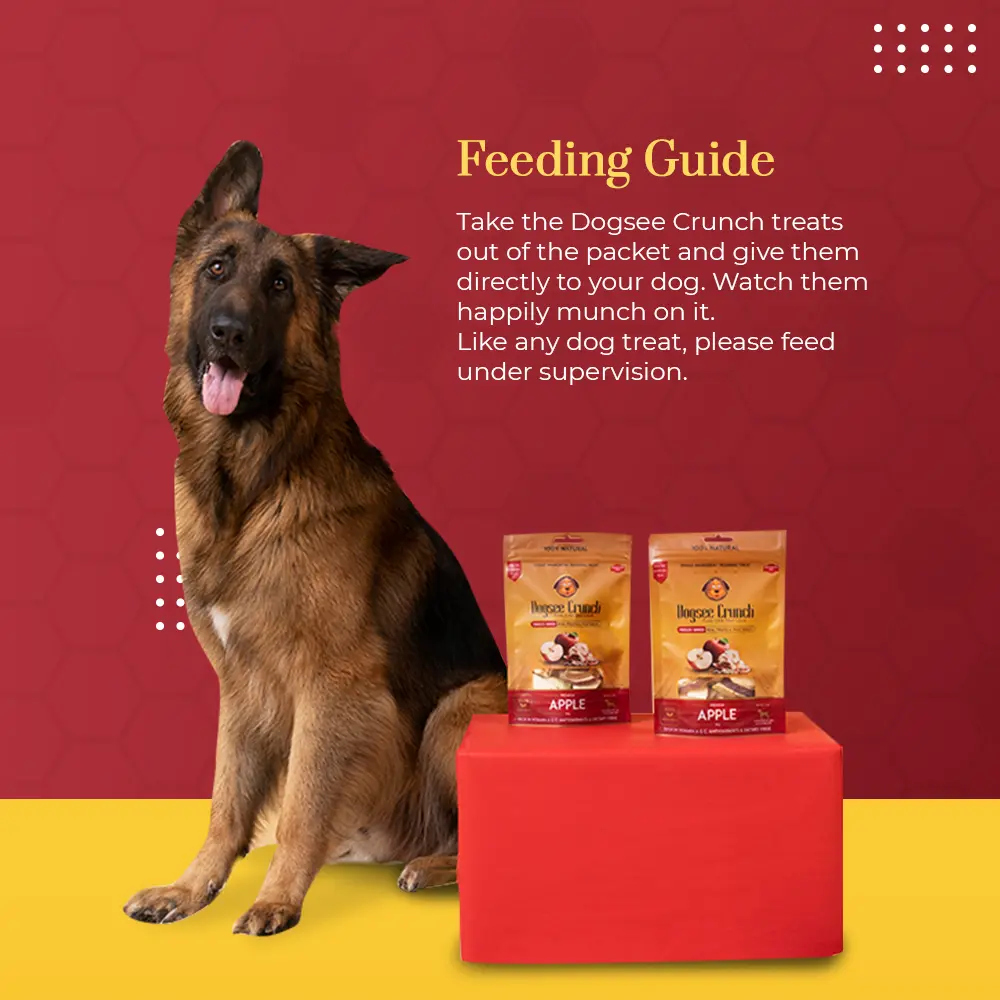 Dogsee Chews' freeze-dried apple crunch treats are a single ingredient product. They serve as a healthier substitute for treats as they are made of real fruit. They do not contain any added colours, chemicals, or preservatives. These treats are super-versatile and can be used for training sessions, rewards for a good doggo, and occasional doses of extra love.
When picking out dog treats pet parents often are looking for how these nutrients can help develop a healthy dog.
These Human-grade vegan treats Contribute to:
Healthy skin and shiny coat.

Helps boost immunity.

Aids digestion.
Storage
The most important step after rewarding your doggo with the yummy crunch apple treats is storing it properly to maintain its flavour and crunch. As these treats are dry in state we recommend that you store them in a cool, dry place and make sure that they do not come in contact with any moisture.
Also Read: Dogs Favorite Food: Does Flavor Matter To Dogs
Conclusion
Having a happy healthy dog is super important. A major way to help a dog feel and look healthy is by keeping track of their nutritional needs. These amazing all-natural freeze-dried apple crunch treats are guaranteed to keep your dogs' taste buds satisfied and improve his health. Check our amazing range of Dogsee Crunch flavours for your dog!
---
---