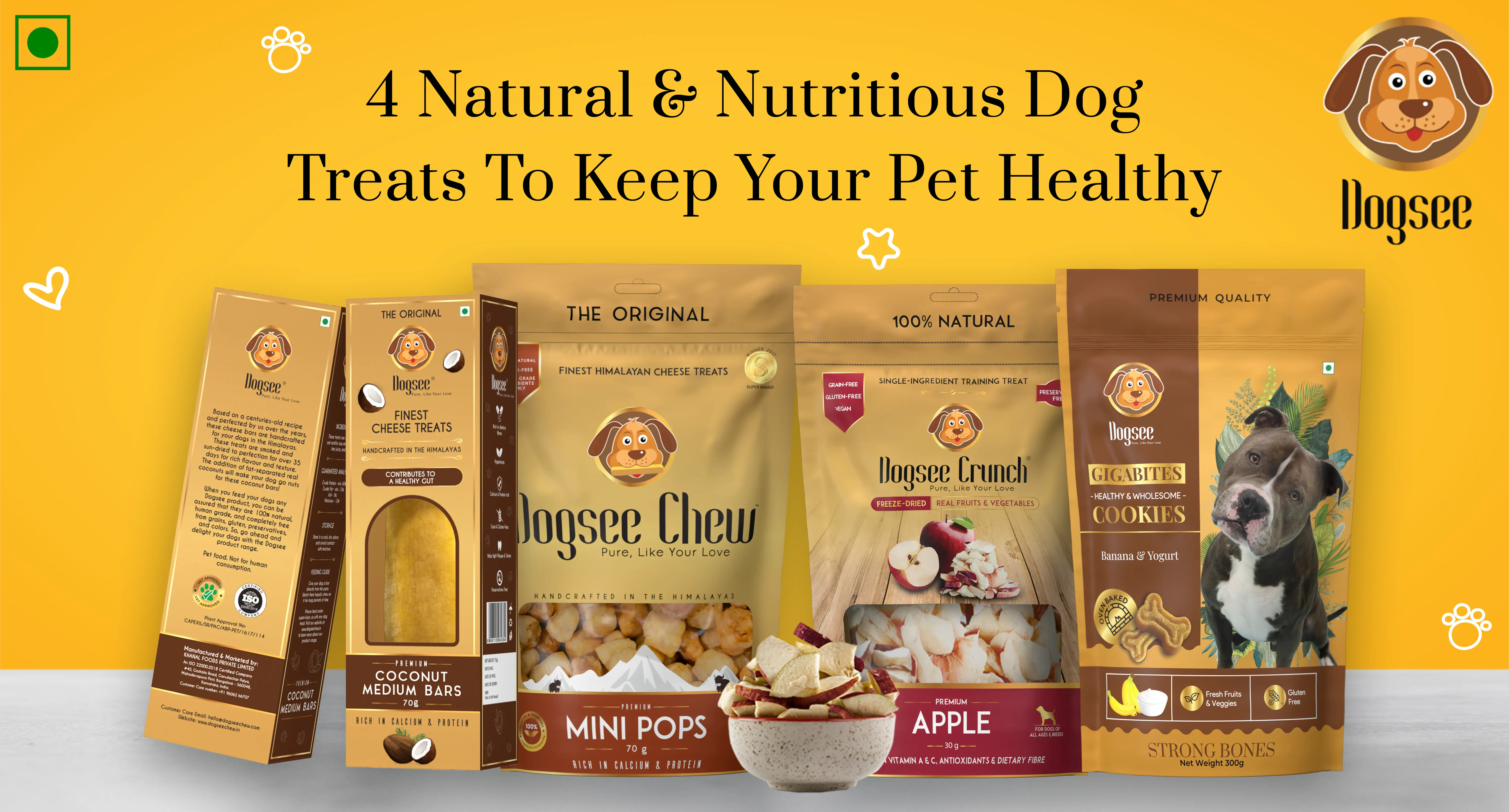 Who doesn't love a yummy treat? As humans, we succumb to eating snacks and savouries as a pastime and often indulge a little too much than necessary. This in turn leads to side-effects like weight gain and high cholesterol!
What about our cute little furry pets? Do you think you are giving them snacks that may contain unhealthy ingredients? Yes, you sure are, especially if you are picking snacks and treats without investigating what it contains and how it is processed!
Dog nutrition is a much debatable topic and as a pet parent the least you can do is make the right choices when it comes to healthy dog treats.
In this blog, we are going to introduce you to 5 healthy dog treats to keep your pet healthy and safe and ensure they are getting the right kind of dog nutrition. Before that, let us also understand how to differentiate between treats that are healthy and the ones that aren't
Healthy Vs Unhealthy: How to differentiate between the two when it comes to dog treats?
Unhealthy Dog Treats: It is quite easy to succumb to attractive marketing tactics and competitive prices that the commercial dog food industry advertise to the customers! But, in reality, these treats contain harsh chemicals and unwanted preservatives that can very slowly put your dog's health to risk.
The next time you're browsing to buy dog treats online in India or walking through the dog food section of your neighbourhood pet store, take a moment to look over the ingredient lists of the food and treats on offer. Frequently, a long list of components and preservatives will be present. Make sure none of the following components make it into the subsequent package you purchase:
Corn Syrup

Artificial Flavours

Chemical Preservatives

Propylene Glycol

Xylitol (and other sugar alcohols)

Artificial Food Colouring

Rendered Animal Fat

Wheat Gluten

Processed Meat or Meat Byproducts

Grain Food
The list of unhealthy ingredients and its side-effects can be endless!
Healthy Dog Treats: Ingredients of healthy dog treats that are sourced from the right places and that are produced naturally by using natural ingredients can be the ideal choice for your dog's nutritional needs.
Natural treats are often gluten free, grain, artificial flavours, colouring and harsh chemicals. There are many advantages to giving your dogs healthy dog treats
Improved digestion

Lower risk of disease

Enhanced immunity

Optimum dental health

Improved quality of life
Since they don't contain gluten and grain, which are two most common allergens that cause indigestion and damage to intestinal linings to dogs, natural treats can be the ideal choice.
4 Dog Treats by Dogsee to keep your pet healthy, happy and satisfied!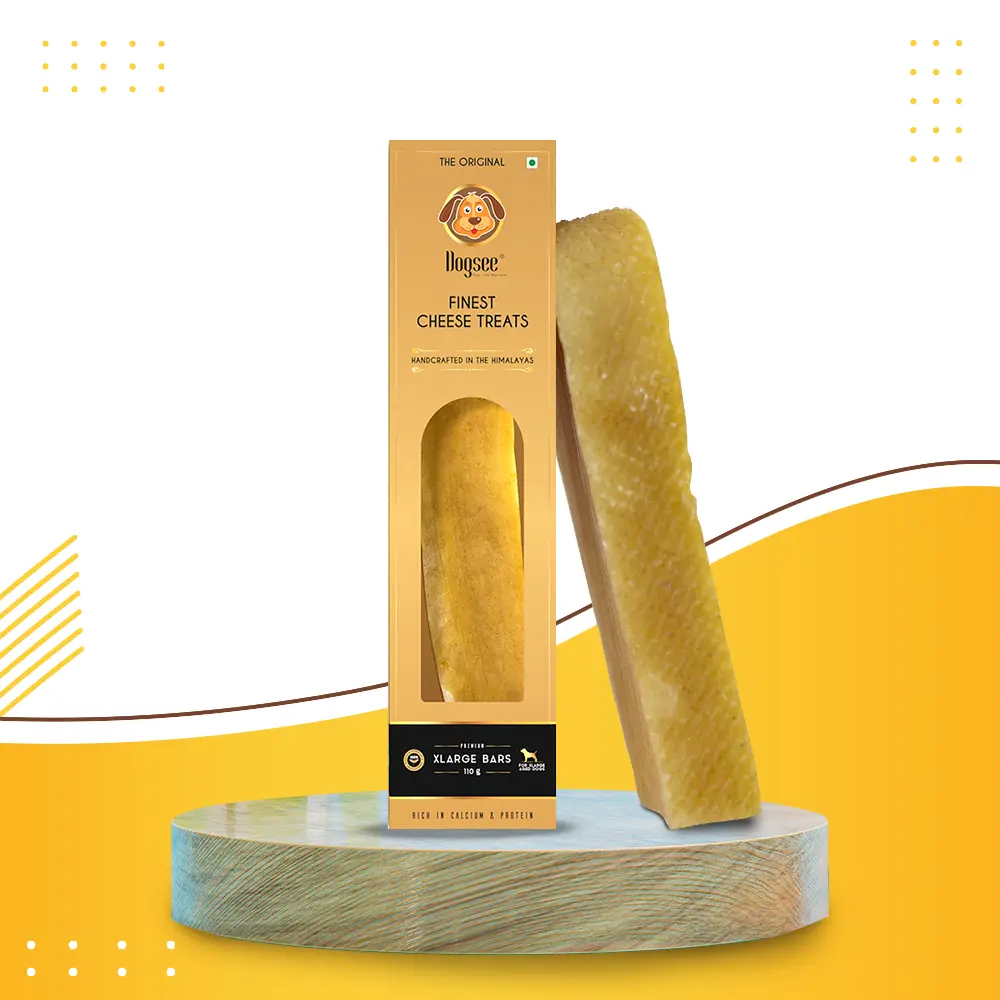 Dogsee Singles are long lasting dog dental chews for large dogs, medium sized dogs and small dogs. They are 100% vegetarian natural treats made from the finest Himalayan Cheese and are gluten and grain free.
You may ask, "What is special about the Himalayan cheese"? It is sourced from the milk of Yaks and Cows who live in the pristine conditions of the Himalayan foothills. They often drink the pure spring water that is available in this region and graze on grass, herbs and shrubs that are grown in the area. These natural foods that do not contain any pesticides are the purest form of nutrition to these animals.
Dogsee Singles are laced with the goodness of the Himalayan region and are long-lasting , hard and specially packed using eco-friendly materials. These dog dental chews are great for your pet's dental health as they fight against tartar and plaque and other dental diseases.
These natural dog chew bars are smoked and sun-dried for 35 days. Your dog will love it because it is:
Long lasting and great for passing time

Smokey and rich in flavour

Fights Plaque and Tartar

Ideal to keep breath fresh

Nutritious and 100% Natural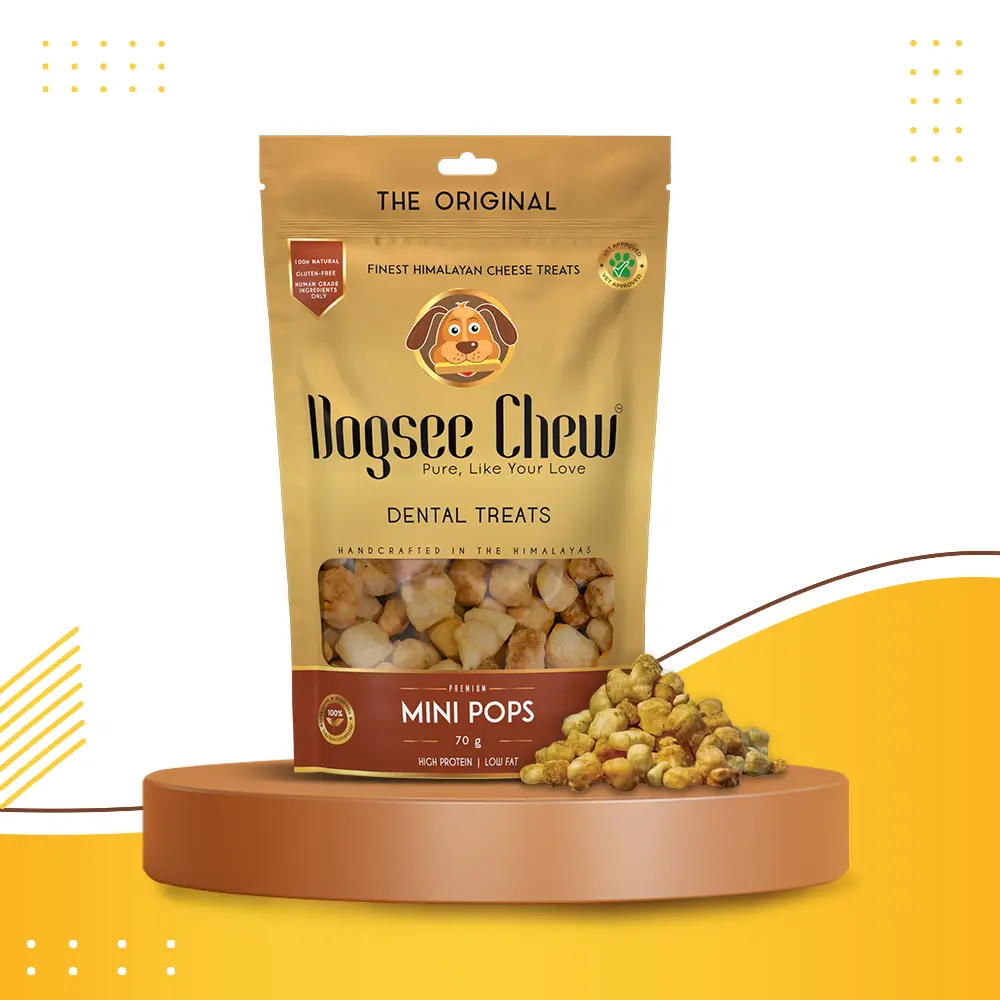 These are mini bite-sized dog training treats that are 100% natural and specially processed to keep your training sessions and treats healthy and nutritious. These are made with Himalayan cheese and are a great source of proteins for your dogs.
Benefits of mini pops:
Low in Fat

High Protein Content

Bite-sized and easy to feed during training sessions
These Mini-pops are also available in turmeric flavour which can be a great option to keep diseases at bay and absorb the goodness of curcumin, which is a natural immunity booster.
Visit our Instagram Handle and learn more about Dogsee Mini Pops and its many benefits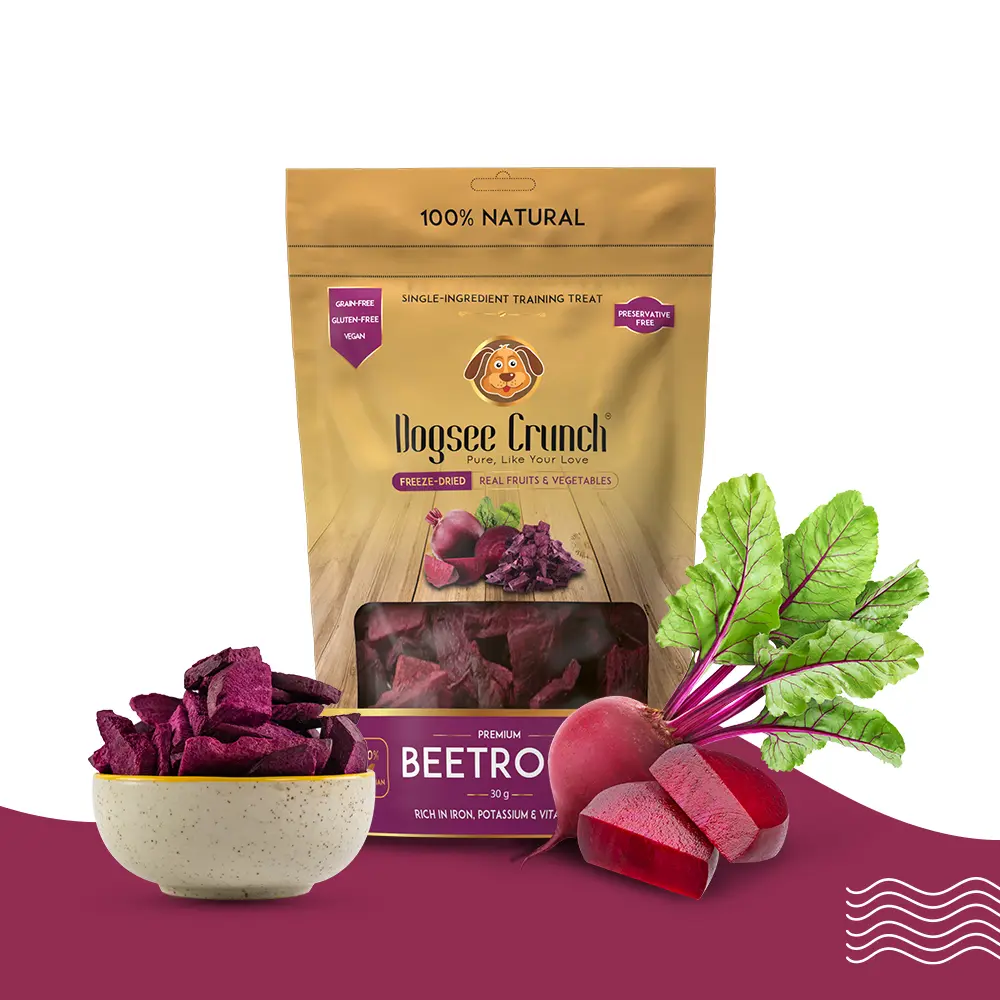 Dogsee Crunch keeps things easy and wholesome. These all-natural dog treats are created solely from fresh fruits and vegetables. The best dog treats in India are these single-ingredient training treats because they don't have any flavours or preservatives added.
Benefits of Dogsee Crunch:
They come in multiple fruit and vegetable flavours and

Contribute to healthy skin and a shiny coat

Help boost immunity

Aid digestion

Freeze dried to retain nutrients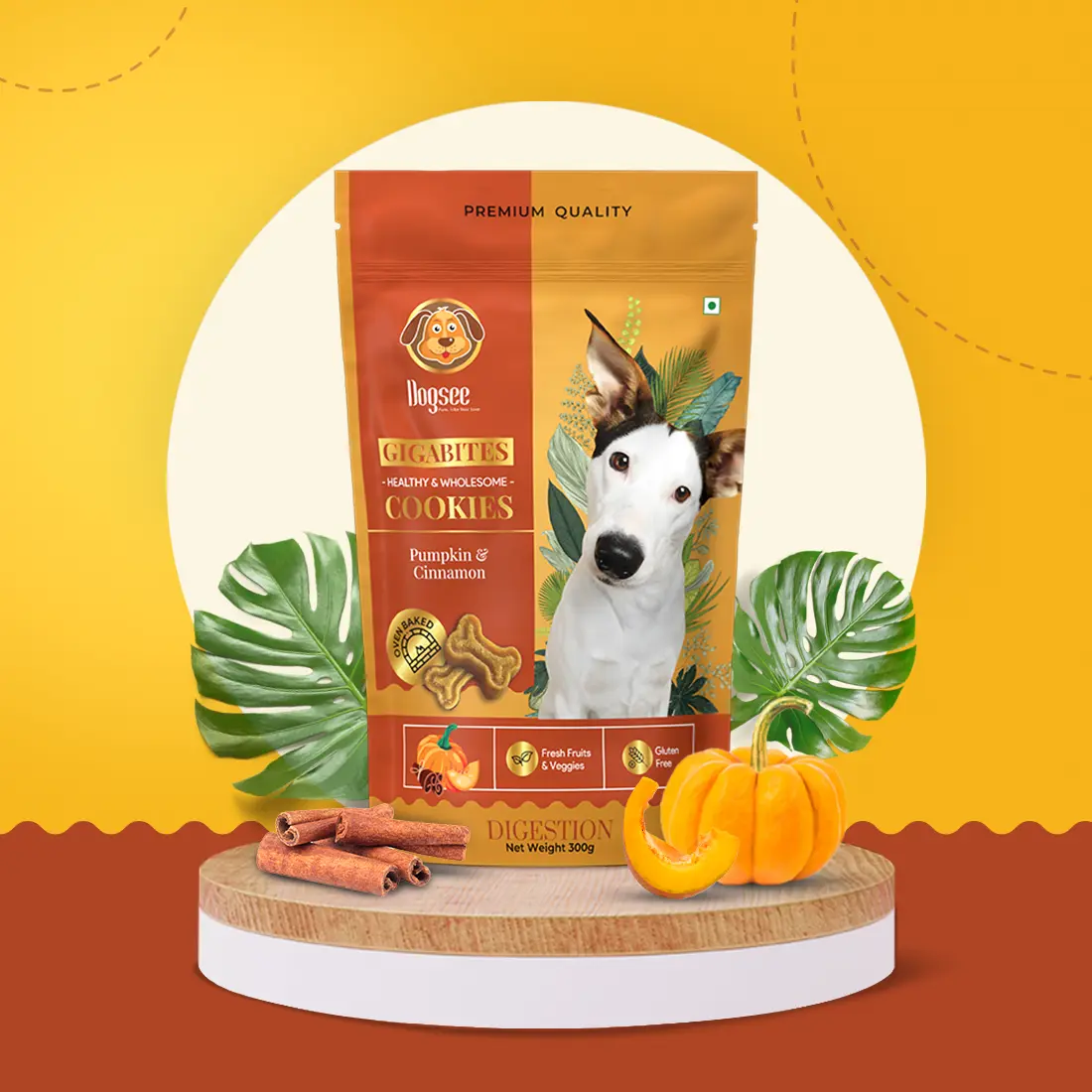 Dogsee Gigabites are cookie treats that are a great way to provide your dog with the nutrition they need. These are excellent for all dogs because they are made with premium ingredients, have the natural sweetness of honey and jaggery, and are gluten-free.
Benefits of Dogsee Gigabites
Different flavour combinations

Rich in vitamins and antioxidants

Improved gut health

Free of gluten and grain
These are some of the best dog treats online in India that are made of high quality ingredients and that are also chemical, gluten and grain free. These natural dog treats ensure that your pet is getting enough nutrition from their treats and snacks and that they are not subjected to unwanted ingredients that cause many health conditions and diseases in the later part of their lives.
As a brand that is very conscious of providing healthy dog treats to pets, Dogsee has created products that are made with a natural process without using artificial flavours and preservatives.
Dogsee takes great care to feed your pets the correct things. Our obsession with proper nutrition for dogs drives us to eliminate hazardous and inferior substances from food. "Feed Healthy, Feed Natural" is our motto!
Dogsee also aims to create the best natural treats that are lovingly made with the help of organic ingredients.
Choosing the best dog treats will give you the confidence that you have chosen right for your pet pooch and ensure that your mind is at ease. Learn more about age appropriate healthy dog treats for puppies, adult dogs and senior dogs.
The next time you are deciding on your pet's health, keep in mind the popular saying, "Love your dog enough to give him or her a healthy lifestyle."
---
---