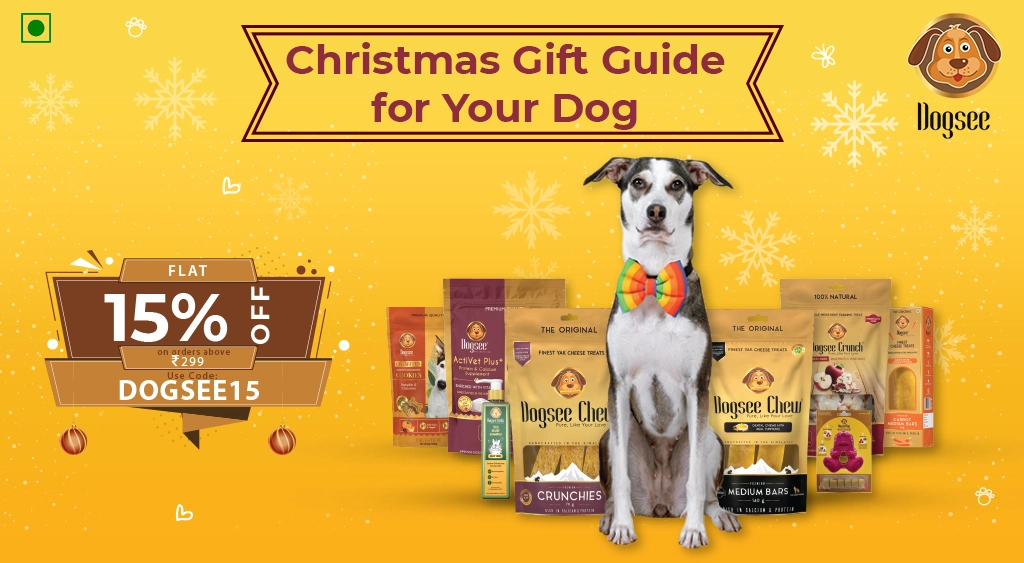 HO HO HO! 🎅🏼It's beginning to look a lot like Christmas! 🎄
Time to get excited and start celebrating! The Dogsee team is getting into the holiday spirit and we hope you are too! ❤️
This is the best season of the year - one full of joy and happiness. It is the time to spread cheer amongst family and friends, exchange delightful gifts, and just enjoy each other's company.
On such a wonderful occasion, our furry friends deserve special appreciation for their innate talent of keeping us on our toes, bringing a smile to our faces and providing us the most loyal companionship all through the year. And what better way to show how much we love them than by giving them some festive treats! So, let's look at some Christmas gifts for pets and spoil them a little more than they already are!
Festive Discount | Flat 15% Off
Save on Dogsee Products this Christmas! Grab 15% Off on all orders and F;at 20% off on Combos.
Use Coupon code Dogsee15 for 15% Off
Shop now before the Sale Ends!
We've got you covered with a flat 15% off on all our dog essentials. From food to toys to shampoos, we've got everything your loyal friend needs to enjoy the holiday season. Let's look at some healthy gift options for your pet:
Festive treats for dogs this Christmas Season
There are a number of dog treats online, all of which are sure to get their tails wagging. From cookies to cheesy chews, there's something for every four-legged friend. And when these treats are super healthy, they can be the perfect special gift for your special friend! Let's look at some fun and exciting treats for our little pals.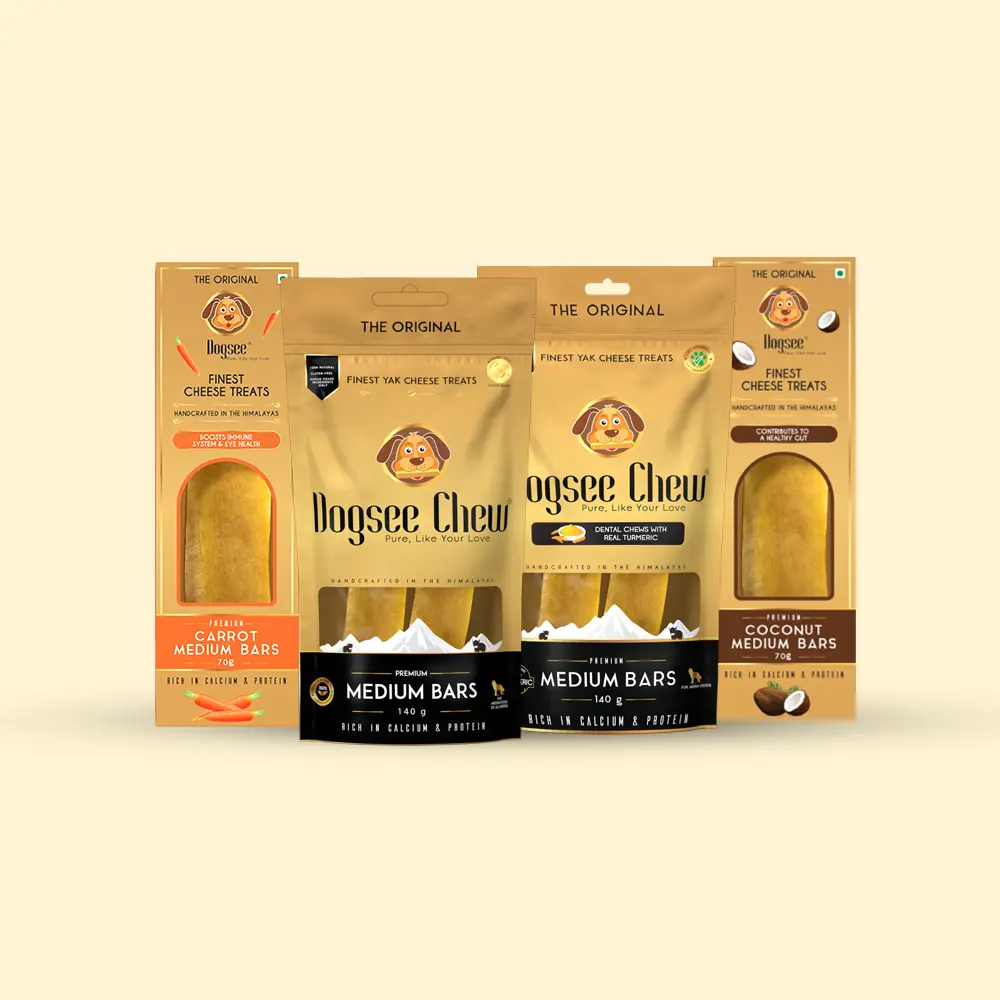 These Dogsee Hard Bars in our Combo Pack are the perfect indulgent treats! The cheese in these hard bars are sourced straight from the milk of Himalayan Cows and Yaks and are made with 100% natural ingredients. They taste great, promote healthy teeth and gums, and help fight plaque and tartar. Plus, they're sure to keep your dog happy and occupied for hours this holiday season!
They come in a variety of sizes, and also come in two super yummy flavours (Carrot and Coconut) apart from the plain cheesy flavour. So you can find the perfect one for your dog, regardless of his size.
These chews are healthier alternatives to rawhides, antlers, and bully sticks. These 100% natural Himalayan cheese chew treats are high in nutrition (59.2% protein and 5.2% fat). In contrast to unhealthy rawhides, which are processed with harmful chemicals, Dogsee's treats are completely free of preservatives, added colours, and chemicals.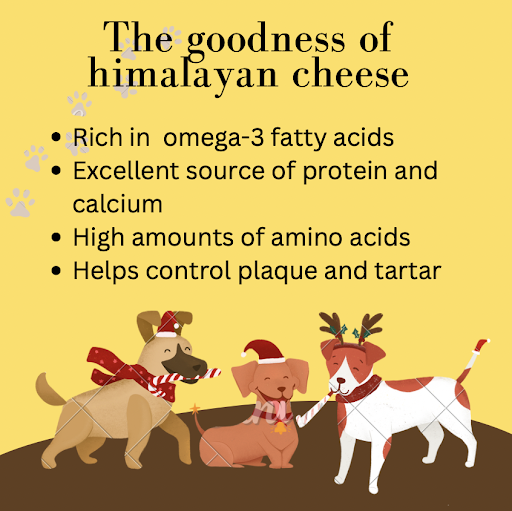 These puffed, crunchy, cheesy and soft doggie treats are made with delicious Himalayan cheese, and they're sure to be a hit with your four-legged friend. Not only are they super tasty, but these 100% natural, bite-sized yumminess are perfect as training treats and help your dog maintain a healthy gut. So, not only will your dog love these mini treats, but you can feel good about giving it to them too!
They come in two delicious flavours: Coconut and Turmeric which are the most essential ingredients in dog treats.
Dogsee Crunch: Mini Bite-sized Healthy Dog Treats
A little on the chubbier side, are we? No worries! These 100% natural dog snacks are made from real fruits and veggies and nothing else. They're nutritious and tasty, and your dog will love them. They are soft and make for great training treats that help manage your pet's weight. Since they are also bite-sized, it's a lot easier to control the portion size. Best of all, they're completely free of artificial ingredients, so you can feel good about giving them these as a special christmas treat!
They come in 4 super yummy flavours: Apple, Banana, Beetroot and Fat Separated Coconut.
Nutrition Combo Pack
:
Crunchy And Healthy Dog Cookies and Seasoning Powder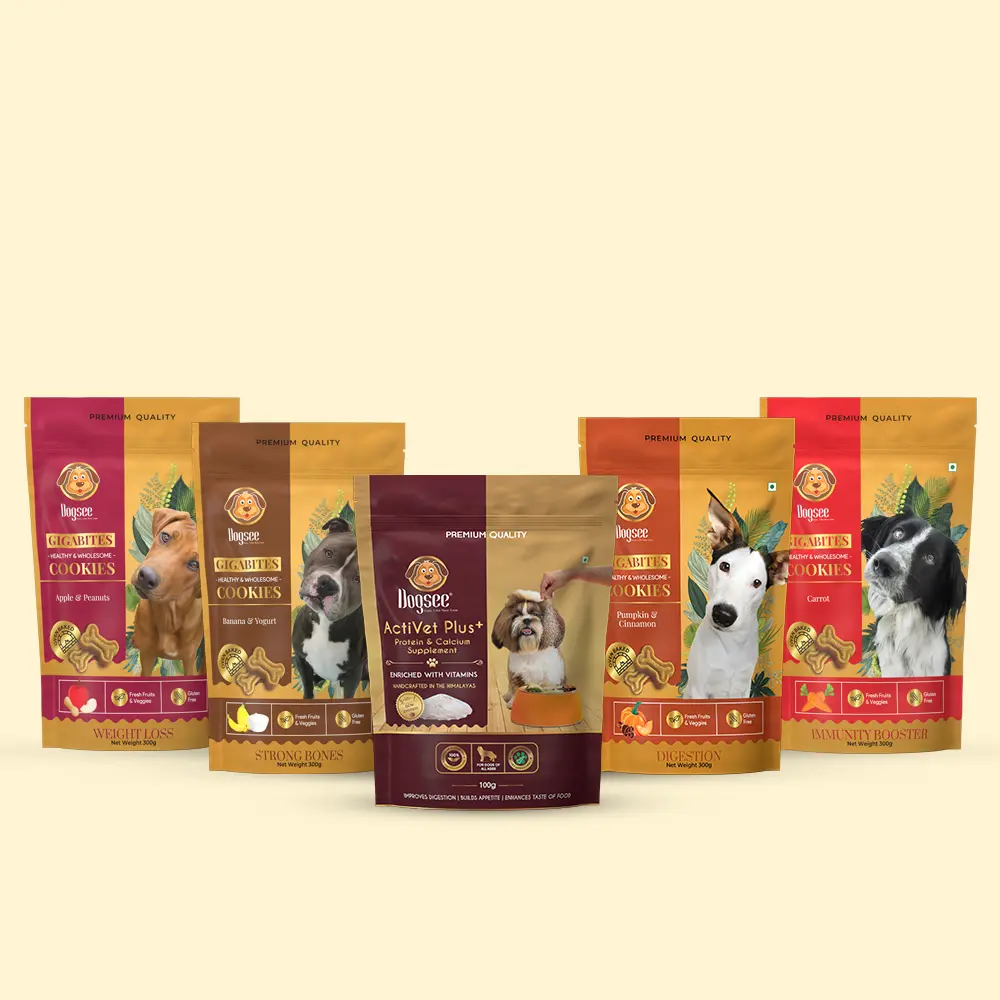 The delicious cookies in this combo pack are made with healthy ingredients like pumpkin, carrot, banana, yoghurt, apple, peanut, and cinnamon. Not only are they good for your pup, but they taste great too! They are suitable for all dogs because they are made with high-quality ingredients, have the natural sweetness of honey and jaggery, and are gluten-free. So next time you're in the mood for a little something special for your four-legged friend, reach for a bag of Dogsee Gigabites.

These cookies come in 4 irresistible flavour combinations:Pumpkin and Cinnamon Cookies, Banana Yoghurt Cookies, Apple and Peanut Cookies, Carrot Cookies for Dogs.
This special seasoning powder for dogs in the combo pack is a great way to add a little yumminess in their meal. Just sprinkle the powder over their Christmas dinner and see them enjoy this festive treat. Not only will your dog love the taste of this seasoning, but it is also healthy for them. This powder is a great source of multivitamins, calcium and minerals that your dog needs to stay healthy and happy. So don't forget to include your furry friend in the holiday fun with this healthy dog treat!
While these were some healthy holiday dog treats for your beloved pet, let's look at other treats that will keep them happy and safe this Christmas!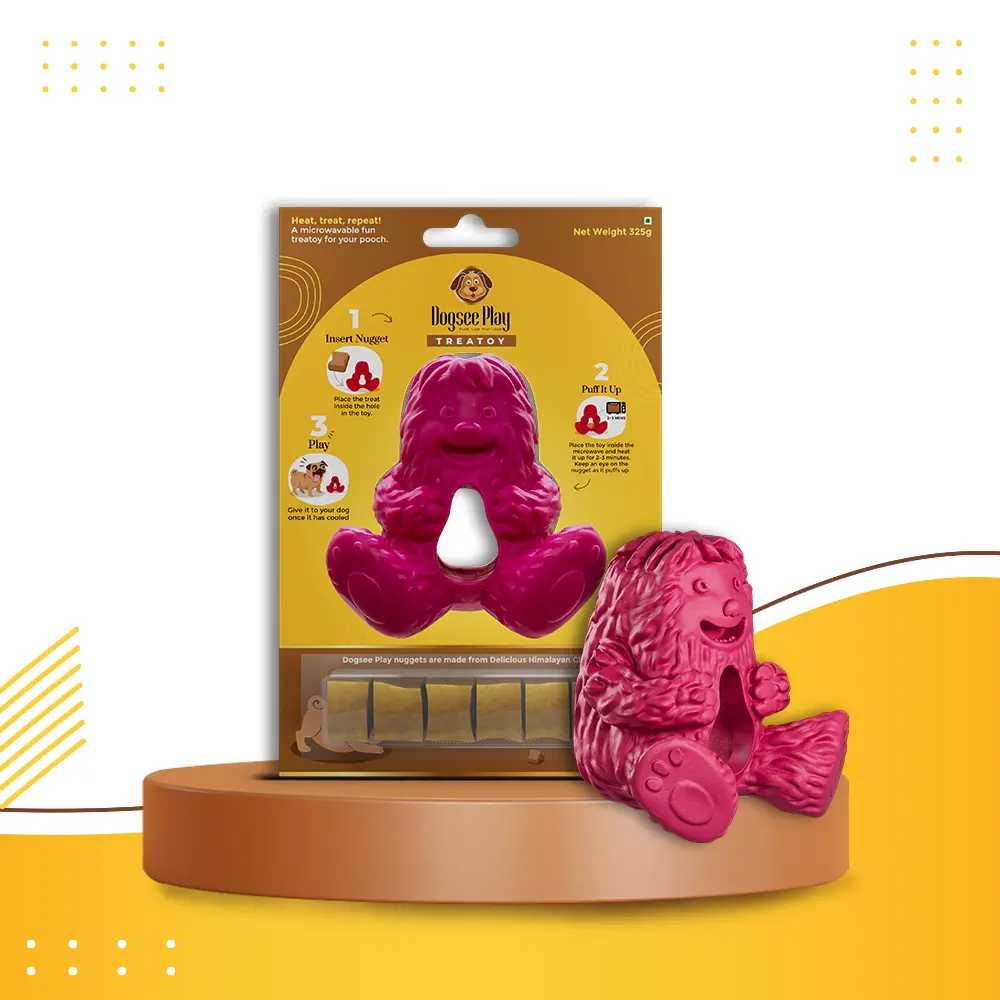 If you're looking for a fun and unique Christmas gift for your pet, look no further than the Dogsee Play Treatoy! This all-natural chew toy is made from flexible, non-toxic material that's gentle on your dog's gums. The innovative textured shape helps clean teeth while your dog enjoys the cheese puff treat inside. Hours of fun and excitement await your furry friend with this one-of-a-kind toy!
This Play Treatoy is made of soft, Bisphenol-A free material that is safe for your dog to chew on. The smooth texture and carefully constructed edges help to clean your dog's teeth and keep their gums healthy. Not only is this toy durable and long-lasting, but it is also safe for your pet to use over and over again. Plus, the Dogsee Treatoy is microwave friendly, so you can easily give your pet a warm special treat this winter!
Christmas Gift for pets for essential hygiene
Keep those coats fluffy, clean and smelling good this holiday season! Dogsee Veda's Shampoos are concocted using natural ingredients and ayurvedic formulas. There are 4 shampoos that treat different types of skin conditions to ensure your dog is comfortable during his/her bath time.
Oatmeal Hypoallergenic Dog Shampoo,

Odour Control Dog Shampoo,

Coconut Shed Control Dog Shampoo,

Aloe vera Itch Relief Dog Shampoo
These are some Christmas gift ideas and festive dog treats that are sure to get your pup into the holiday spirit! And with no artificial preservatives, you can feel good about giving your dog a little something special and healthy this holiday season. So go ahead and indulge your furry friend with some of these super christmas treats!
Keep abreast of the best pet products and nutrition information on dog care at our Insta Handle
At Dogsee, our mission is to provide healthy and natural food and essential products for dogs. We take great care to ensure that our products are of the highest quality and free of harmful ingredients. We work with a team of experts to create formulas that are tailored to the specific needs of each dog, and we're always updating our products to make sure they're the best they can be.
Explore our 100% gluten and grain free products here and get Flat 15% Off on Dog Essentials
Enjoy this magical season and have a Merry Woofmas🎄!
---
---