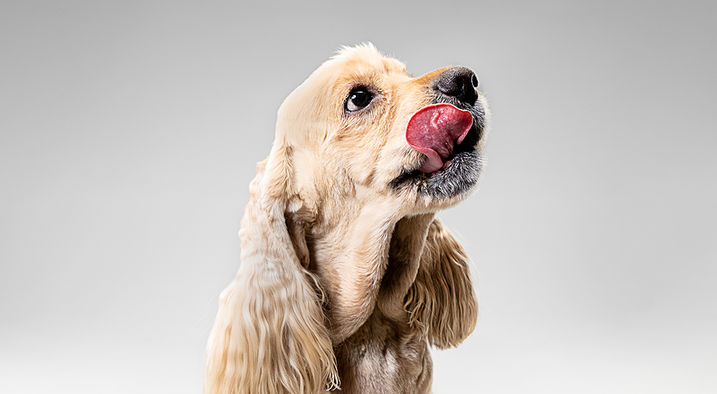 Do you feel bad about eating three delicious meals and snacks all day while your dog gets one or two scoops of dry kibble? We at Dogsee believe that those two scoops should not be the only thing your dog enjoys throughout the day. Dog snacks are supposed to be healthy and nutritional. They can be treats for training or even a hard dog chew bar for keeping your little one busy.
There are many ways you can feed your dog throughout the day. We at Dogsee have a few ideas for you as to how:
Let Your Dog Decide: You can employ the free-choice feeding strategy as long as your dog maintains a healthy weight. This implies that you keep food out all day for your dog to have. This is one of the best strategies for high-energy dogs who burn more calories as compared to low-energy dogs. It is important to keep in mind that if you're about to leave food and puppy snacks outside for your dog, the food has to be dry so that it does not go bad. Pests, rodents and racoons may be able to find their way to dog food left out all day.
Control Portions: Whether for humans or doggos, portion control is extremely important. You can give your dog food once or twice a day. It's better to perform it twice a day, at 8-12 hour intervals, for the best results. If you do it this way, divide the advised amount on the bag or you'll be feeding it twice as much as it requires. Himalayan dog treats like Chew sticks can be provided to train them or keep them occupied. Giving your dog unlimited treats is not advisable.
Watch the Clock: Use the timed feeding strategy if you don't want to leave the food and treat biscuits out all day. This implies you give the dog a set period of time to eat, such as 30 minutes. Throw out anything they haven't eaten when the timer goes off. Your dog will be hungry and eager to eat delicious kibble and treat biscuits when you provide food again 8-12 hours later.
What About Treats?
Ideally, dog chews and treats should make up 5% to 10% or less of your dog's daily diet. The number of treats for dogs varies based on their weight and activity level. If you need to use treats frequently for training, make sure you use the healthiest puppy treats and Himalayan dog training treats. Usually, dogs meet their required amount of nutrients in a day through healthy dog treats. Ensure that your dog gets the most delicious puppy snacks and dog chews.
Some parents even shop for the most natural unprocessed dog treats that are size appropriate. These snacks are not just safe for the dogs but also super healthy! If you're looking for healthy treats for your doggo, we have selected the best ones for you!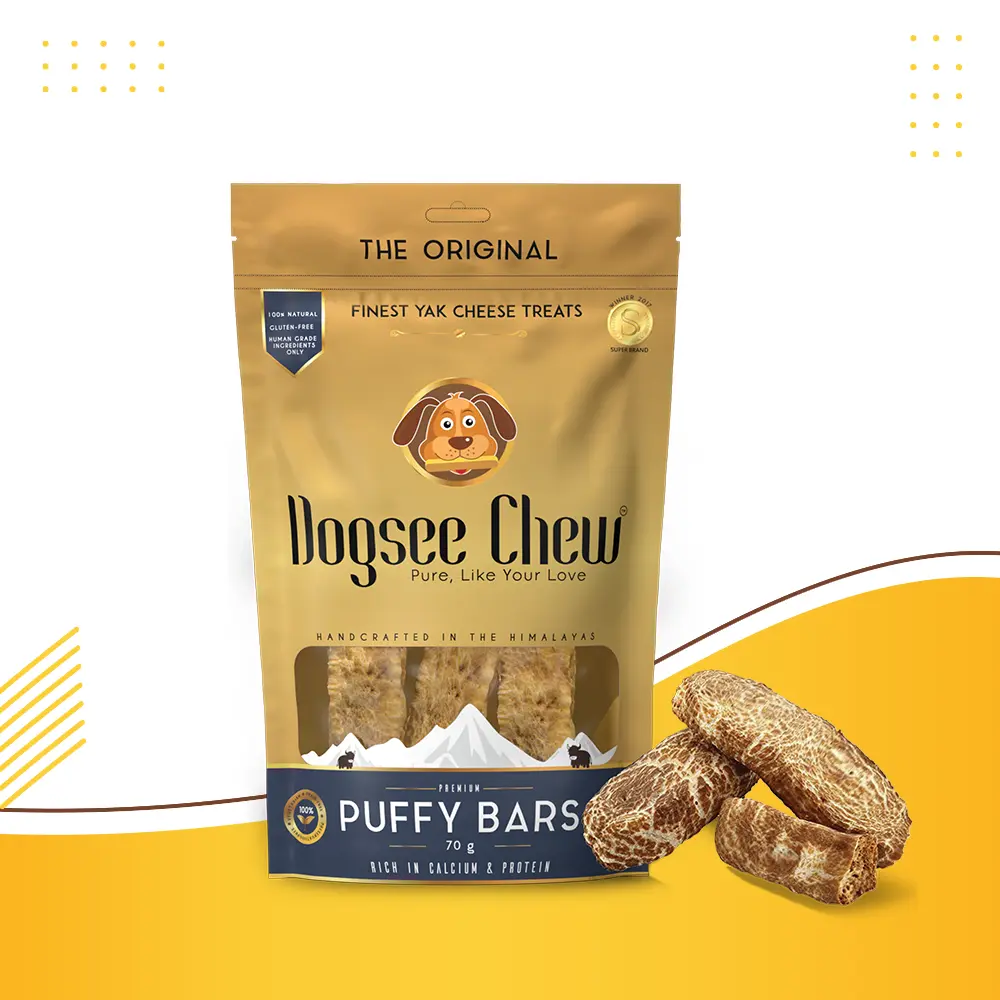 If your doggo is a cheese enthusiast this treat is perfect for them! We at Dogsee Chew completely understand your frustration when it comes to buying healthy treats for your dog. Dogsee Chews' puffy bars are the most suitable dog snacks that are easy to chew and digest for older dogs. In order to get a rich flavour & texture, the finest Yak cheese is sourced from the Himalayas and is smoked and sundried.
These treats are made of 3 simple ingredients- Milk, a dash of lime, and a pinch of salt. Wondering how these treats would help your doggo?
The key benefits of these Soft Dental Treats For Senior Dogs:
The uneven texture helps remove plaque and tartar.

The rich flavour helps freshen breath.

They are easily digestible.
When it comes to their nutritional composition these Himalayan dog treats contain:
Crude Protein: Min 59.2%

Crude Fat: Min 5.2%

Moisture: Max 10%

Fibre: Min 5.9%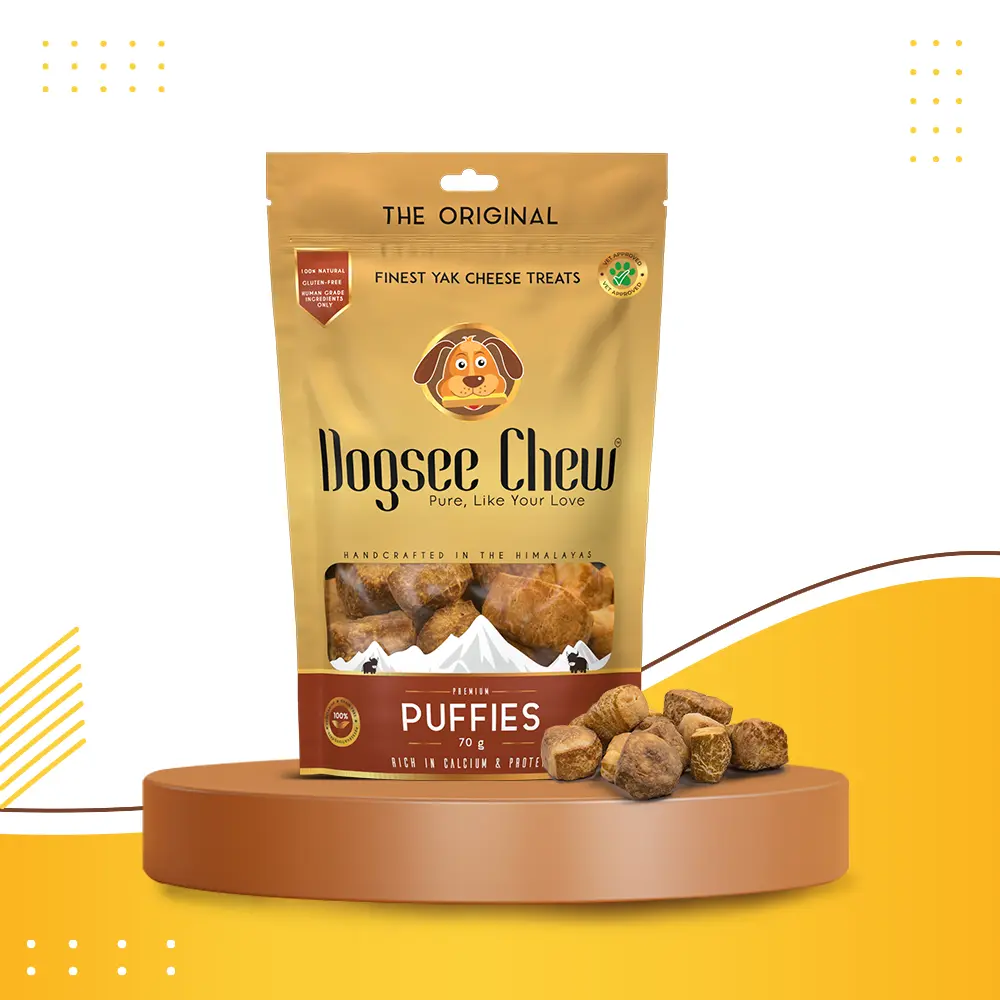 These dog treats will make training sessions more enjoyable and rewarding for your pups. Make sure your dogs' nutritional needs are satisfied with one of Dogsee Chews' top dog treats. The best and finest cheese from the Himalayas is sourced, smoked, and sun-dried for incredible texture and flavour. They make for a stress-free training session as they are bite-sized.
Also read: Do Dogs Know You Love Them? 6 Ways To Show Love To Dogs
These puppy snacks are made of 3 simple ingredients- Milk, a dash of lime, and a pinch of salt. Wondering how these treats would help your doggo?
The key benefits of Puffies are:
High in protein which helps in providing energy.

Low fat helps in weight management.

They serve as ideal dog training treats.
When it comes to their nutritional composition they contain:
Crude Protein: Min 59.2%

Crude Fat: Min 5.2%

Moisture: Max 10%

Fibre: Min 5.9%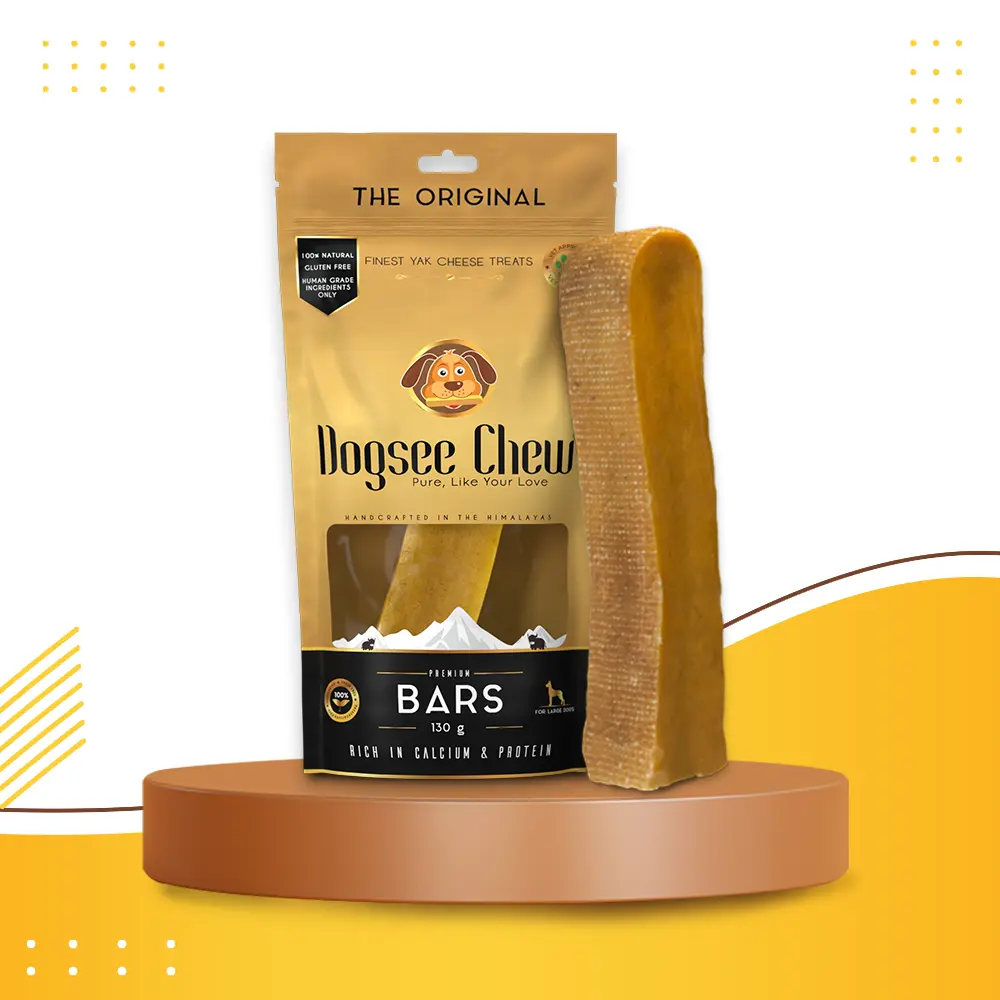 A nutrient-dense treat that is suitable for dogs of all sizes. These turmeric bars are just what your dog needs to keep their teeth in good shape. These bars include Tumeric, which relieves joint discomfort and builds a strong immune system in your dog, making them the ideal healthy dog treat.
Made from dried Himalayan cheese and real turmeric these bars help as they are:
Rich in the therapeutic properties of Turmeric.

Lasts a long time keeping your dog engaged.

The rich cheesy flavour keeps your dog's breath fresh.
Conclusion
Make sure your doggo is given the best dog treats and foods. Each dog may vary in eating time and quantity. Your dog's feeding requirements may change if:
Your dog is pregnant or nursing, she will become more energetic.

The weather is either extremely hot or extremely chilly.

Your dog is recovering from an infection or surgery.
Make sure they aren't merely looking for attention and love before giving them more food. If that's the case, serve that instead.
---
---