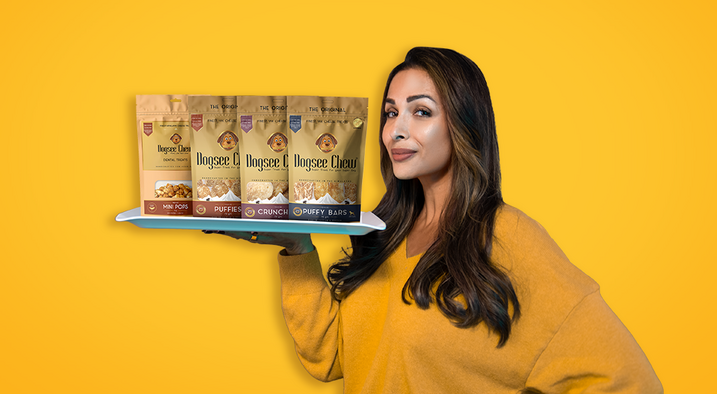 Healthy and natural treats are exactly what every doggo deserves. Dogsee Chew believes that healthy treats that aid your dog's health are super important, and guess what? Malaika Arora also feels strongly about the same for Casper! Just as Malaika enjoys and prioritises her health and fitness, she gives the utmost care to Casper's fitness and health. She makes sure that Casper is given only natural foods and is kept away from any chemical-ridden processed foods. Malaika said that being healthy is a non-negotiable element and she inculcates the same beliefs regarding her dog's health. Dogsee's healthy and nutritious treats are reflective of her beliefs.
Check out what Malaika has to say about Dogsee, on our youtube video!
What is Dogsee?
Dogsee is founded by Bhupendra Khanal and Sneh Sharma with their CFO (Chief Fun Officer) Mowgli. They established Dogsee as dog lovers who wanted to provide more nutritious options for their fur babies. Dogsee streets away from any processed treats that may be infused with chemicals and preservatives. Dogsee Chew's healthy snacks for dogs are a result of careful research that was aimed at creating nutritious, natural, and delicious treats for your doggos.
How is Dogsee so natural?
Dogsee began as a mission to provide dogs with 100% natural, delicious, and grain-free healthy dog treats. The careful research helped find products that are a combination of the very best natural foods for your dogs. Would you believe that Dogsee gets its treats from the Himalayas and the freshest orchards and farms? Well, you better believe it, as it's all about the quality, freshness, and taste at Dogsee. None of the Dogsee products are made using processed ingredients or chemicals that even in small quantities are harmful to your dogs. Chemicals such as additives and preservatives over a while cause health complications or gut issues in dogs, which 100% natural treats do not do. Gluten also affects and causes skin irritations and allergies in dogs. So Dogsee decided to steer away from any grains in treats. Another interesting feature about some Dogsee treats is that they are human-friendly! Yes, that's right! Now you and your doggo can binge-watch shows munching on healthy and natural treats!
Want to hear more on Caspers' take?
Whether it's training sessions or simply rewarding for being a perfect angel, Malaika only gives the best and most healthy dog treats for Casper to enjoy. Here are a few of Caspers' favourite dog training treats.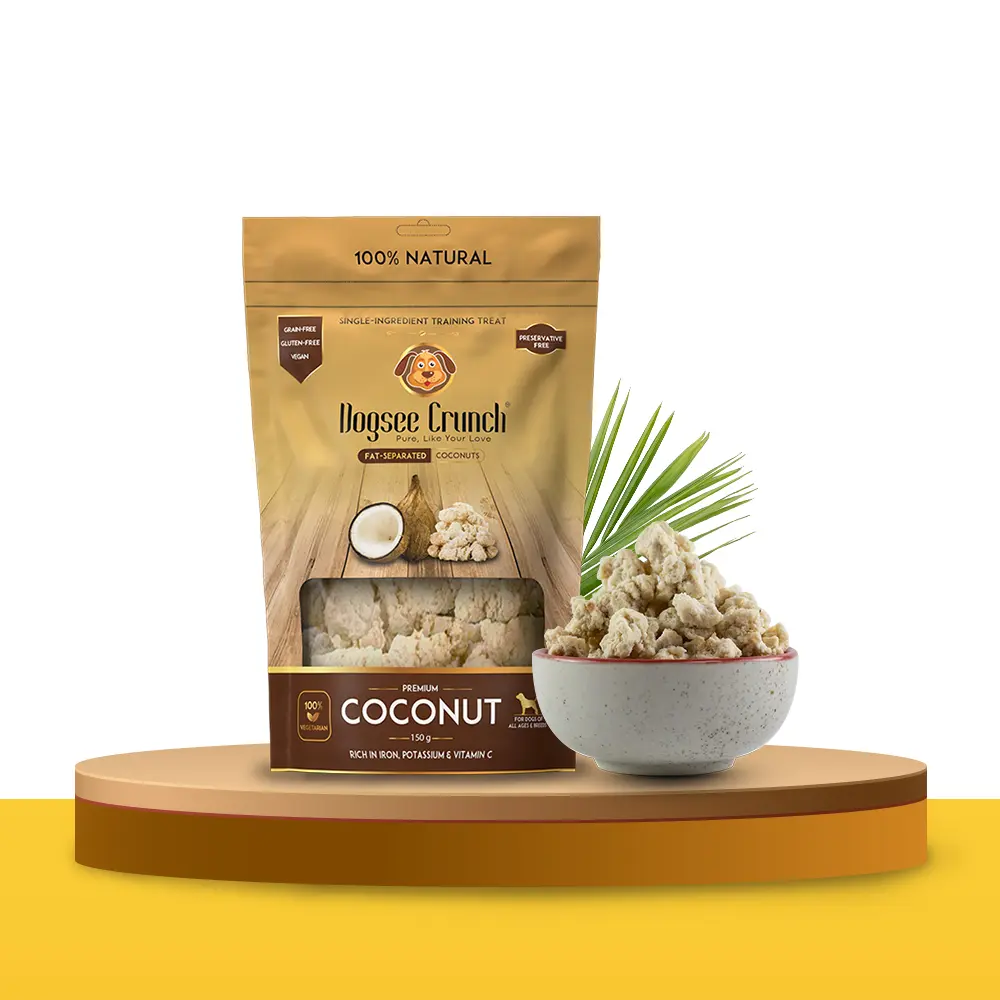 Coconut crunch treats are awesome and perfect for your doggo who is loco for coconuts. These crunchy and healthy snacks for dogs are made from just coconuts and nothing more! These delicious dog treats are filled with the richness of dietary fibres that help in maintaining a healthy gut. They also act as one of the best treats for puppies.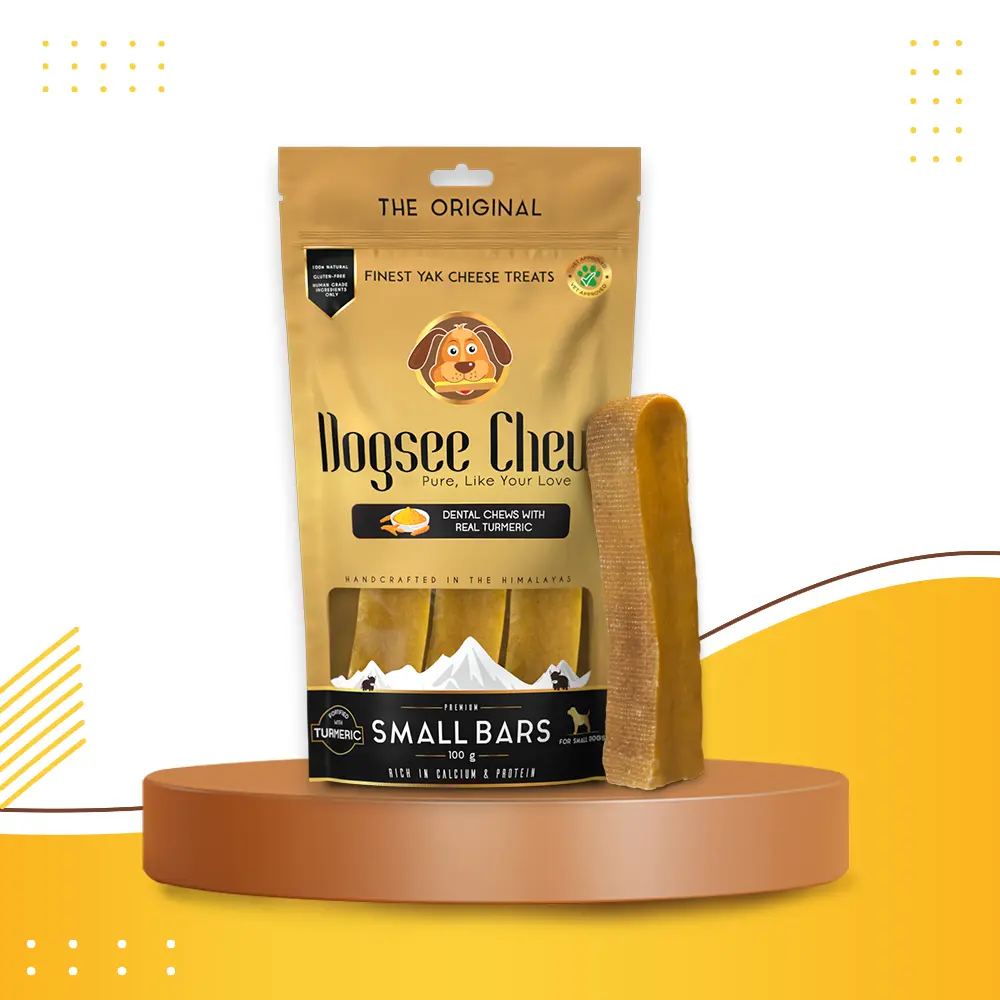 Searching for a healthier alternative to rawhide for your dog? Rawhide chews tend to be a bit too hard for dogs and there are no alternatives if your dogs are allergic to meat. Sometimes meat-based hard chews may even cause dogs' teeth to break. Himalayan dog chews are made from cheese that softens when your dog starts chewing on them. It also promotes excellent dental health as it tackles plaque and tartar buildup. The cheese is sourced from the Himalayas and made with yak milk that has been sundried for 35 days to reach the perfect texture and flavour. This 100% natural treat is an excellent source of nutrients and antioxidants that help improve your dog's denta and gut health, and promotes a shiny coat as well. These treats also have turmeric which is known for its therapeutic advantages and heals and strengthens your dog's immunity.
Sceptical about your dogs consuming cheese? Also read: Can Dogs Really Eat Cheese?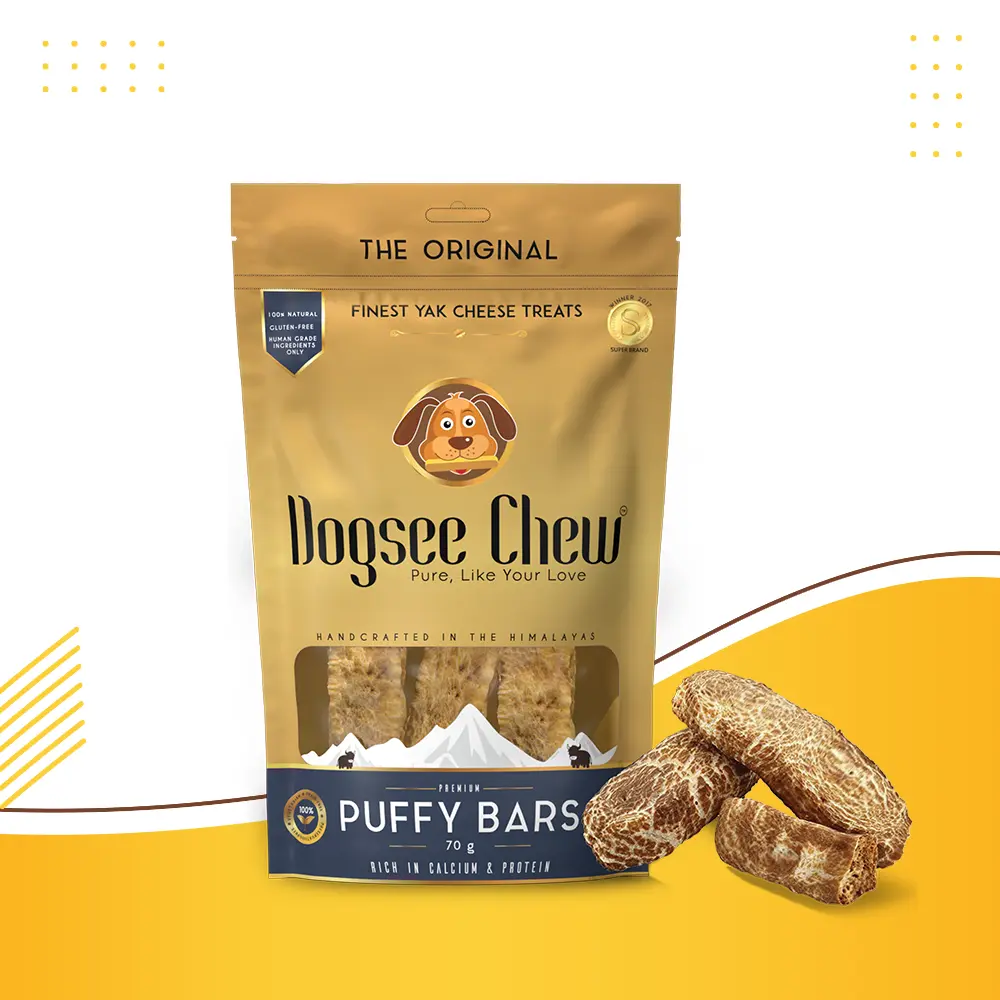 Whether your dog is a pup or a senior, their favourite reward is a treat. Dogsee Chew has the perfect puffed treat that helps your dog enjoy chewing on it painlessly. These treats are made with 100% natural ingredients that are smoked and sundried over 35 days to reach the best texture and flavour. These cheesy treats contain high proteins, are low in fats, and its uneven texture helps to prevent the development of plaque and tartar buildup. The nutrients also help support healthy skin and improve the lustre of your dog's coat. This is one treat your dog can enjoy guilt-free.
Conclusion
A lot of parents now are trying to give their dogs much more nutritious and natural diets. Treats play an important role in providing your dogs with their nutritional needs. A puppy usually gets his nutritional requirements through puppy treats and senior dogs have limited options for fun and painless treats. Dogsee Chew understands your Doggo's struggles and demands, and therefore guarantees the best and most flavourful dog treats for your little one. Even Casper and Malaika enjoy their day with Dogsee Chew treats. Check out their training sessions with our dog training treats on our Instagram!
---
---