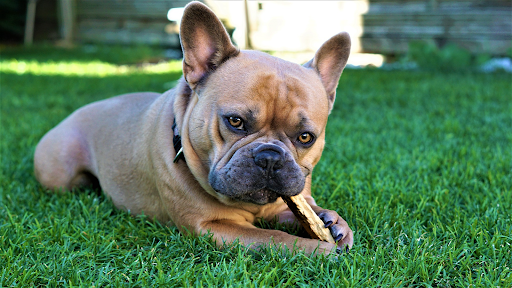 There are many dog chew treats out there, but how do you know if they're good for your dog? You would certainly want to find the healthiest dog chews that are long lasting and made with the right ingredients.
Yak Cheese is one such ingredient that is rich in nutrients to cater to your dog's good health. You may have also heard that yak cheese is good for your furry friend's teeth, but did you know it can also help their digestive system? Find out what makes yak cheese for dogs so great in this article.
What are Dogsee's yak cheese dog chews?
The yak cheese in Dogsee Chew's treats is made from the milk of yaks that live in the Himalayas. The Himalayan Yak is a long-haired, bulky, cow-like animal that is domesticated in the region
Yak Cheese Dog Chews are a high-protein, low fat treat that is perfect for a growing pup or a senior dog. Yak chews for dogs have no artificial flavors, colours, or preservatives and they contain zero trans fats! They are also hypoallergenic to a great extent and are fit for human consumption too!
Is Yak Cheese good for dogs?
Yak cheese is a safe alternative to many of the ingredients that are used by dog food manufacturers. It has been meticulously tested and has been found to be safe for dogs. It is also a great way to provide your dog with more nutrients due to the variety of natural ingredients present.
And a lot of pet parents give their dogs yak cheese chews as a special treat.
What are the benefits of yak cheese chews for dogs?
Rich in Nutrients: Yak chews for dogs are low-fat, low-carb dog treats that provide a significant amount of protein. They are rich in magnesium, calcium and antioxidants. They're tasty and most pooches tend to love the flavours in them! Yak cheese is also rich in Omega 3 fatty acids that can enhance the health of your dog's skin and coat.
Natural: Yak cheese is often considered as the best cheese for pets, as it contains no preservatives, additives or flavorings.
Long Lasting: These long lasting treats will satisfy your pet's need to chew while keeping their teeth healthy and clean. Dogs love to chew, and they tend to chew on things like furniture, shoes, and the corners of couches. If your dog is chewing on everything in sight, it's time to get them yak cheese chews for dogs.
Top Quality: Most yak cheese chews are extracted from the milk of Himalayan yaks that live in the foothills of Himalayas. They are bred in pristine conditions and they also have access to the pure Himalayan water. They are miles away from even the remote vestiges of a polluted environment and they also feed on medicinal plants and herbs that grow in the Himalayan hills. Hence, the Himalayan yak milk is considered to have high nutritional value when compared to other milks and their cheeses.
Also Read: Difference Between Good Dog Treats and a Bad Dog Treats
Why choose our Himalayan yak cheese chews?
Himalayan yak cheese chews are made with all-natural ingredients that are preservative free, hormone free, grain free and gluten free. They are even made without any artificial colors or flavors! Himalayan yak chews are the best option for your dog. They are all-natural, healthy and most importantly they have very mild odors that will not stink up the room when your dog is chewing it. Hence it is the best chew sticks for puppies and for dog of all ages.
Himalayan Yak Cheese Chews: Health Benefits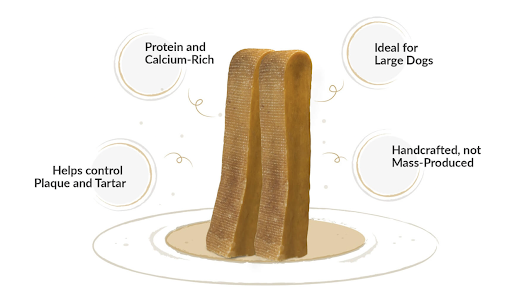 Himalayan yak cheese is a natural probiotic that can improve your dog's digestive health. It has the ability to strengthen the dog's immune system, prevent allergies, and increase absorption of other nutrients. If you are looking for an alternative to commercial pet foods, Himalayan yak cheese could be the answer for you. Himalayan Yak cheese has less lactose than cow's milk, so it helps manage any food allergies your dog might have.
Dental health benefits of Himalayan Yak Cheese Chews for Dogs
The chewing action of yak cheese also promotes dental health by reducing the accumulation of tartar and plaque that contains acid-producing bacteria. It also cleans their tongues, freshens their breath, and fights bacteria in their mouths. Yak cheese chews are healthier alternatives for rawhides, antlers and bully sticks that are often too hard for your dogs and can also lead to broken teeth on occasion.
Conclusion
Yak Cheese for Dogs are a great source of nutrients and can be the healthiest alternative to commercial dog chews that often have high preservatives, added flavours and colorants.
---
---