Gluten intolerance has been quite an issue for people in recent years, but surprisingly it's not just a hooman problem - but a doggo problem too! Some doggos are unable to digest gluten present in some foods, and it has now become a common dog food problem. Any sign of intestinal issues in your doggo could be a possible indication of gluten intolerance. Therefore, it is important to check what you're feeding your furry friend and consult an expert before making changes in your doggo's diet.
What is gluten?
Gluten is a kind of protein that is primarily present in wheat but can also be found in other grains such as barley, oats, rye, buckwheat, etc. A crude mixture of gliadin and glutenin - two other proteins is what makes up gluten. In humans, it is generally the gliadin part that can cause a negative reaction in the body.
How is gluten harmful to doggos?
For a lot of doggos, digesting wheat or food containing gluten is not a problem. However some of them, just like humans may not be able to tolerate gluten. This condition is called celiac disease in humans, and gluten intolerance or gluten sensitivity in dogs.
An important thing to remember is that gluten intolerance in dogs does not mean gluten allergy. It can rather be termed as a physical condition where the gluten proteins remain undigested and treated as foreign particles by the body. If a doggo with gluten intolerance has gluten-containing foods in their diet, the immune system can attack and cause damage to their gastrointestinal tract. This would not only cause irritation of the gut but also weaken the doggo's nutrition absorbing capacity from foods. It can further lead to malnutrition and chronic inflammatory disease in the small intestine.
Symptoms of Gluten Intolerance in Doggos
Detecting gluten intolerance in dogs can prove to be tricky as it causes generic symptoms and is often mistaken to be other health conditions. The common symptoms that could indicate gluten intolerance are:
Persistent diarrhoea

Weight loss

Unhealthy fur and coat

Non-stop itching

Vomiting after having meals

Discomfort or restlessness

Lethargy

Mood swings
Be aware that these symptoms could also be an indication of a different food allergy or health condition. It is better to consult a vet before putting your doggo on a gluten-free diet and observing if the symptoms get better.
Grain and Gluten-Free Training Treats
Gluten intolerance in dogs may mean that several things need to be omitted from their diet, but that doesn't narrow down the food options for your furry friend. On the contrary, grain-free dog training treats are a great option for doggos having this intolerance as such treats provide adequate nutrition without harming their health.
Benefits of Gluten-Free Treats during Training
Having a good idea about the kind of training and the training treats you use for your doggo can you make an informed decision. Here are the major benefits of using gluten-free treats in the training sessions:
1. Helps in Digestion
Gluten-free treats have higher protein content and lesser carbohydrate content. This ensures easy digestion and is beneficial for gut health. Moreover, protein-rich foods promote muscle recovery and growth during exercise that helps keep them active and healthy. Using gluten-free soft training treats for puppies when they start learning commands is a good choice as soft treats go easy on their gums and promote easier digestion.
2. More Nutritious
Grains and gluten are often used as fillers in dog treats that compromises on the nutritive requirements of your doggo. Grain-free dog training treats like Dogsee Chew are completely natural treats, without any artificial colours and fillers - thus providing complete nutrition to your furry friends. Offering nutritious treats during the training sessions will also ensure that your doggo is more agile and active.
3. Provides More Energy
Gluten-free treats contain a balanced amount of protein and fibre, providing ample energy to your doggos to keep them motivated and active during their training sessions. Choosing good training treats especially for puppies is important for their growing up and learning days.
While your pup is learning a new command or performing physical activities, giving a high-quality treat as a reinforcement or reward will not only keep them motivated but also provide the required energy to continue the activities.
4. Weight Maintenance
Treats loaded with grain and gluten are known to cause excessive weight gain in doggos. However, if your pup is gluten intolerant, using gluten-free treats during training is a good way to keep their weight in check. This is because gluten-free treats will have high fruit/veggies content that helps burn stored fat while maintaining muscle mass. And the more the muscle mass, the more fat they will burn.
Choose 100% Natural Gluten Free Dogsee Training Treats
Dogsee dog treats are completely natural, human-grade treats that contain no artificial fillers, colours and flavouring. Hand-crafted and not mass-produced, these healthy treats are great for obedience training. Moreover, the treats are grain and gluten-free, making it ideal for doggos with gluten intolerance. The range of training treats include:
Puffies: Bite-sized gluten-free training treats made from cheese, which is high in protein and calcium and low in fat.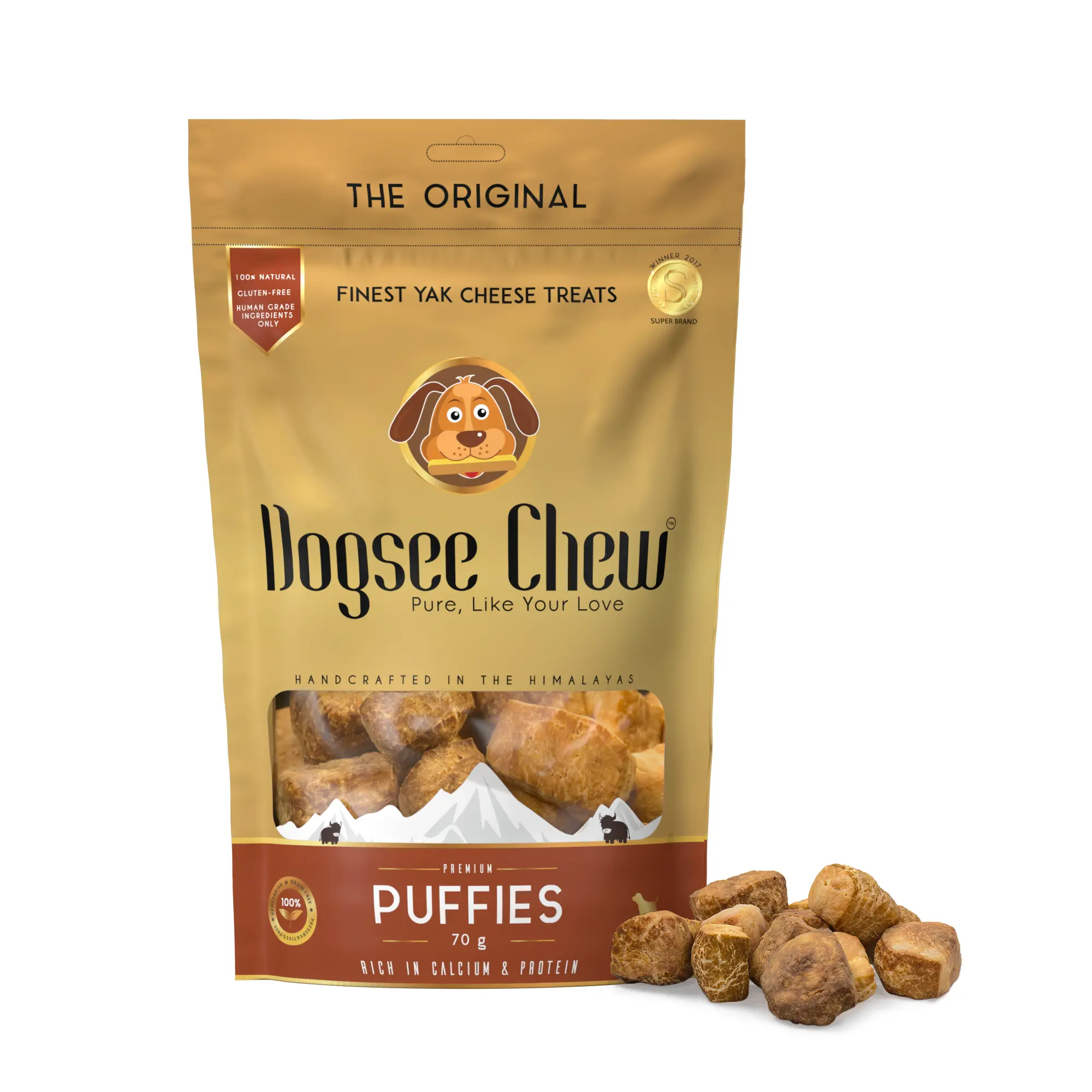 Crunch: Freeze-dried single ingredient treats made from the choicest fruits and veggies, suitable for doggos of all ages, breeds and size. Crunch is available in four flavours - coconut, banana, apple and beetroot.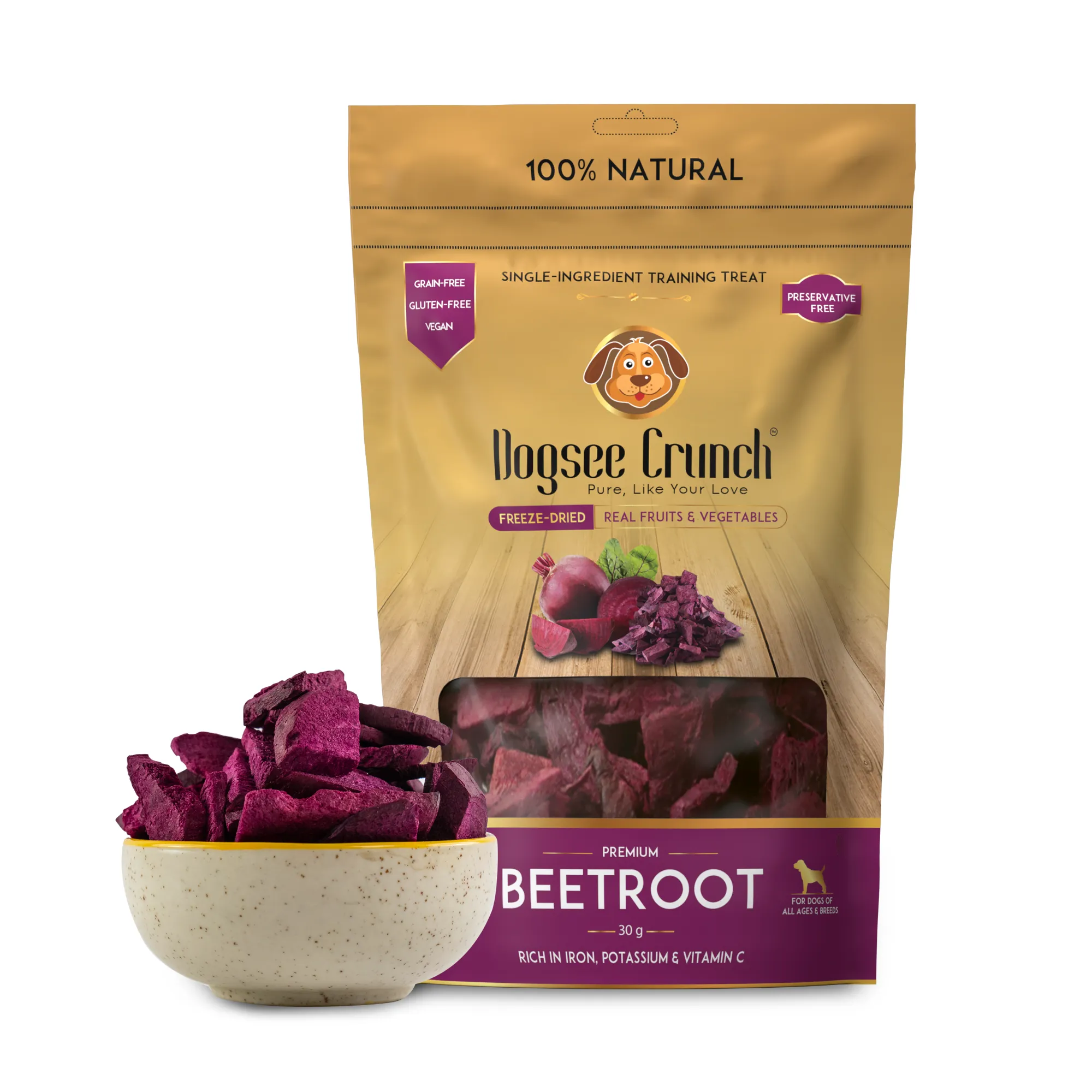 Apart from training treats, Dogsee also has a range of hard bars that are made from a traditional recipe called 'churpi' - long-lasting, delicious and healthy cheese treats.
Dogsee Chew dog treats, as pure as your love. Try them for your pooch today!
---
---