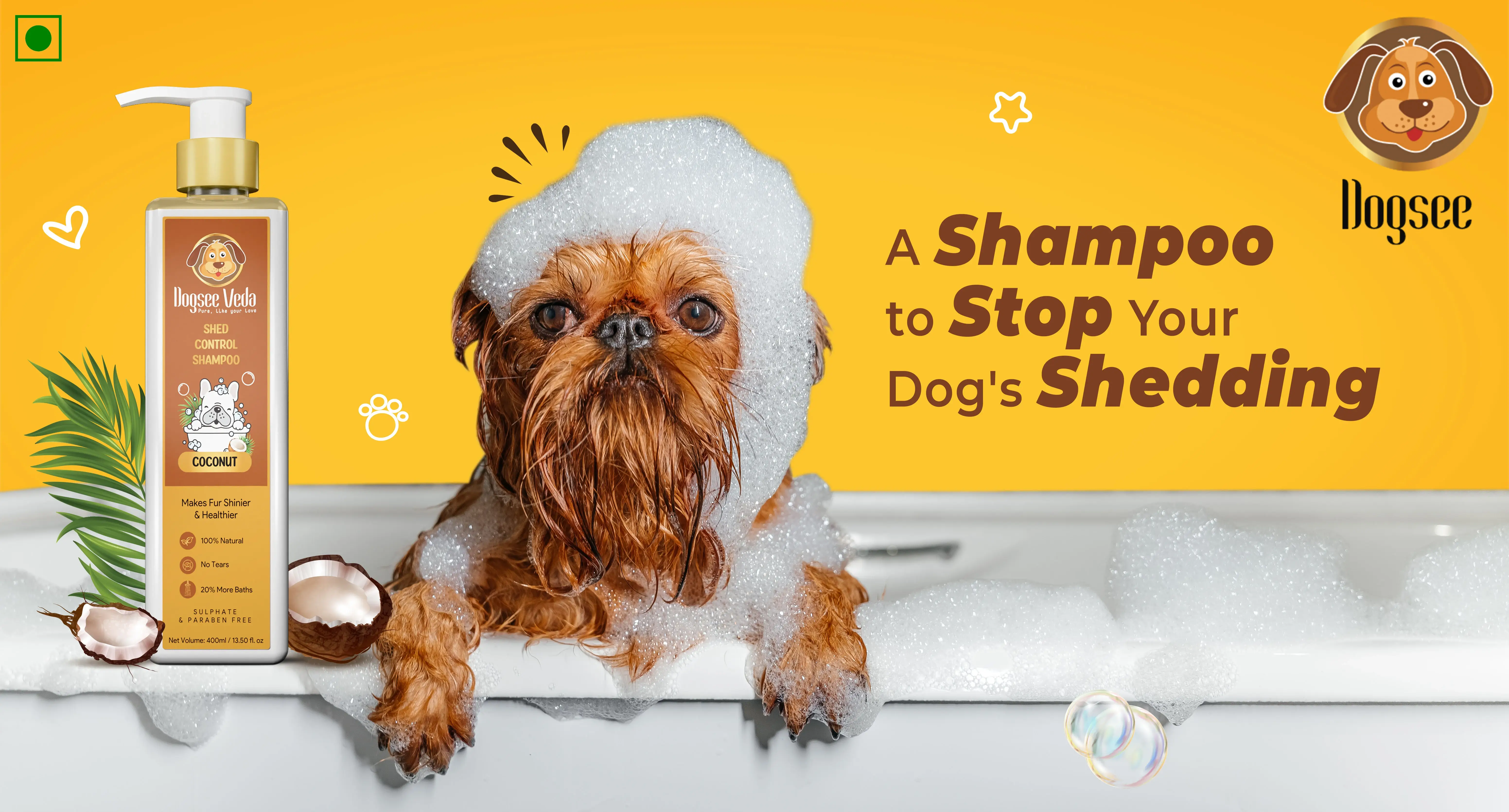 Do you have a dog that sheds twice a year for six months? Considering dog care, dog fur issues have proven to be a hard nut to crack. Guess what? Most of your dog's fur problems can be improved with coconut! Coconut oil can help to restore damaged skin while also reducing allergies. Additionally, it helps to nourish your dog's coat. When absorbed by your dog's coat, the natural proteins found in coconuts nourish and strengthen it. The best way for introducing coconut to replenish your dog's fur health is by using coconut shampoo.
Dogsee Veda coconut dog shampoo can help restore damaged skin while reducing allergies because it is made with organic oils like coconut oil. Additionally, it helps to nourish your dog's coat. When absorbed by your dog's coat, the natural proteins in coconuts build and nourish it. As a consequence, you'll find that your dog's coat is smoother, stronger, and healthier after every bath with Dogsee Veda coconut dog shampoo!
Bath time doesn't have to be ruff
Now one thing we need to take into account is that there are numerous brands promising the best dog shampoo guaranteed to help control dog hair fall. But we all know that dog hair fall shampoos are usually made from unhealthy chemicals that may disturb your dog skin. The chemicals in dog hair fall shampoos may:
Cause skin irritation

Contain allergens

Disturb your dog's PH balance

Form chemical burns

Affect the texture of your dog's fur.
But not to fear when we have DOGSEE VEDA COCONUT SHAMPOO (which works as an excellent dog hair fall shampoo) here. Not sure of how exactly this organic ingredient shampoo works and how it would help your fur baby?
What are the top 5 Benefits of Dog coconut shampoo?
Shed Control: Does your dog have two six-month-long shedding seasons? Here is a shampoo that can aid in reducing your dog's shedding. Shampoos made with natural oils, such as coconut oil, can lessen allergies while also repairing damaged skin. It aids in nourishing your dog's coat as well. When your dog's coat absorbs the natural proteins in coconut, they aid to hydrate and fortify it. This is why you can feel your dog's coat getting healthier, stronger, and even smoother after every bath with Dogsee Veda!
Shinier Coat: Coconut has a number of naturally occurring chemicals that contribute to the enrichment of your dog's fur. Make sure you have a powerful coconut-infused shampoo in your dog's grooming kit if you want them to have the best and shiniest locks possible! Dogsee's coconut-infused shampoo gives your dog not only nourishment but also a gorgeous, velvety coat that will dazzle everyone.
Anti-inflammatory and Antifungal: Coconut has microbiological and antifungal characteristics that can help treat ringworm infections. It is a highly efficient topical treatment for fungal infections and skin irritants like candida. The lauric acid and antibacterial lipids in medium-chain fatty acids in coconut oil are responsible for these advantages.
Natural Components: Shampoo formulated with natural components! Plant-based ingredients with anti-bacterial, anti-fungal, and antiseptic properties, such as coconut oil, coconut fruit juice, aloe vera juice, Simmondsia Chinensis (Jojoba) seed oil, tocopheryl acetate (Vitamin E), shikakai, manjishtha, and hibiscus, as well as almond oil, tulsi extract, and bhringraj, have been used in our products.
Moisturizer: By using coconut shampoo on your pup's skin, you'll help keep it moisturized, soothe dry, flaky skin, and reduce skin irritation. Coconut oil, which is also thought to have anti-inflammatory qualities, can help lessen inflammation in places where dogs are more likely to itch and bite. This is especially crucial during the arduous winter months. For this reason specifically, Dogsee Veda has come up with natural coconut dog shampoo.
FAQs (Frequently Asked Questions)
1. Does coconut really help improve the dryness of your dog's skin?
Answer: We obviously never base our research on hear-say. According to a study conducted Applying coconut oil significantly improved the moisture of the skin, and the study concluded that it was just as effective as some other well-known therapies
2. Can coconut dog shampoo help fight eczema in dogs?
Answer: Using coconut oil on dogs' sensitive skin may help them fight the side effects of eczema. Dogs who have eczema may experience itching, rashes, and scaly skin. All these elements were diminished by the use of coconut oil, which also made the skin less dry and effectively treated eczema.
3. Why do they say that coconut helps protect your dog from insect bites?
Answer: Another amazing benefit of coconut oil is that it acts as an insect repellent. The fatty acids in coconut oil offers defense against a number of parasites for up to 7 days.
4. Can coconut oil help protect dogs' wounds from getting infected?
Answer: Using coconut oil to care for a dog's skin wound will aid in the healing process and guard against additional infection and inflammation. This study looked at how coconut oil's components increased collagen levels and antioxidant status, both of which are essential for the healing of wounds. This successfully sped up the entire wound healing process. Additionally, the anti-microbial characteristics of coconut oil will stop the onset of infections and inflammation and lessen the possibility of laborious healing procedures.
5. How do you use Dogsee Veda coconut shampoo for dogs?
Answer: Using Dogsee Veda for your dog care routine is super easy. Follow these simple instructions below to ensure you give your dog the most soothing bath possible!
With warm water, fully wet the coat.

Apply coconut dog shampoo to various body parts, massage it well into the coat, and then wait a moment before rinsing it off with warm, clean water.

then completely dry
Before using the shampoo on diseased or inflamed areas of your dog, make sure you test it on a tiny area first.
Tips for bath time with Dogsee Veda coconut dog shampoo!
Is your little one not a fan of bath time? We can help you out with that! Here are two ways your dog can have a fun time during his monthly bath time!
Coconut Crunch Treats: Who wouldn't get distracted by an utterly yummy and delicious crunchy treat?! Giving your dog a delicious treat during their doggy care routine can help him relax and enjoy their bath. Our coconut dog treats will make your child very giddy! They assist your dog in maintaining a healthy stomach by being obtained directly from the chosen farms. Additionally, they make the ideal treats for all kinds, sizes, and ages of puppies and dogs. In contrast to mass-produced dog treats that are excessively processed with chemicals, these single-ingredient snacks are a healthier alternative to treats because they are prepared from natural fruits and veggies without any additional colors, chemicals, or preservatives. These fruit and vegetable snacks are adaptable and can be given to your child as extra affection, as a training aid, or as a reward for good conduct.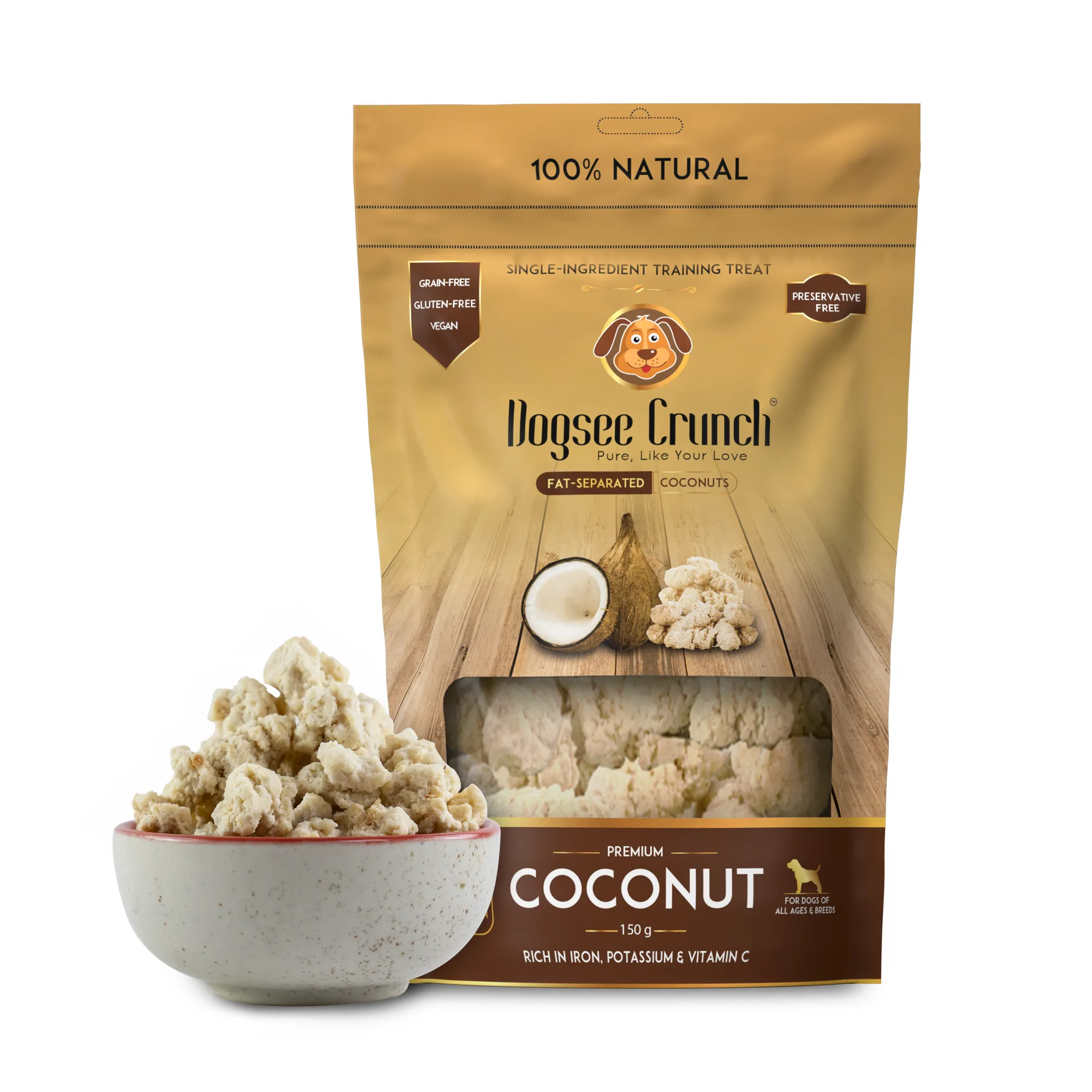 Coconut Mini-pops: If your dog loves to enjoy yummy bites, giving them coconut mini-pops during their bath time with Dogsee Veda coconut dog shampoo would definitely be a great idea. Grab a handful of Coconut Mini Bite-Sized Dog Treats from Dogsee Chew, and your dog will want to get done with their bath. These 100% natural, bite-sized morsels of deliciousness, which are made from real coconuts and the best Cow and Yak cheese, are ideal as training rewards and support your dog's digestive system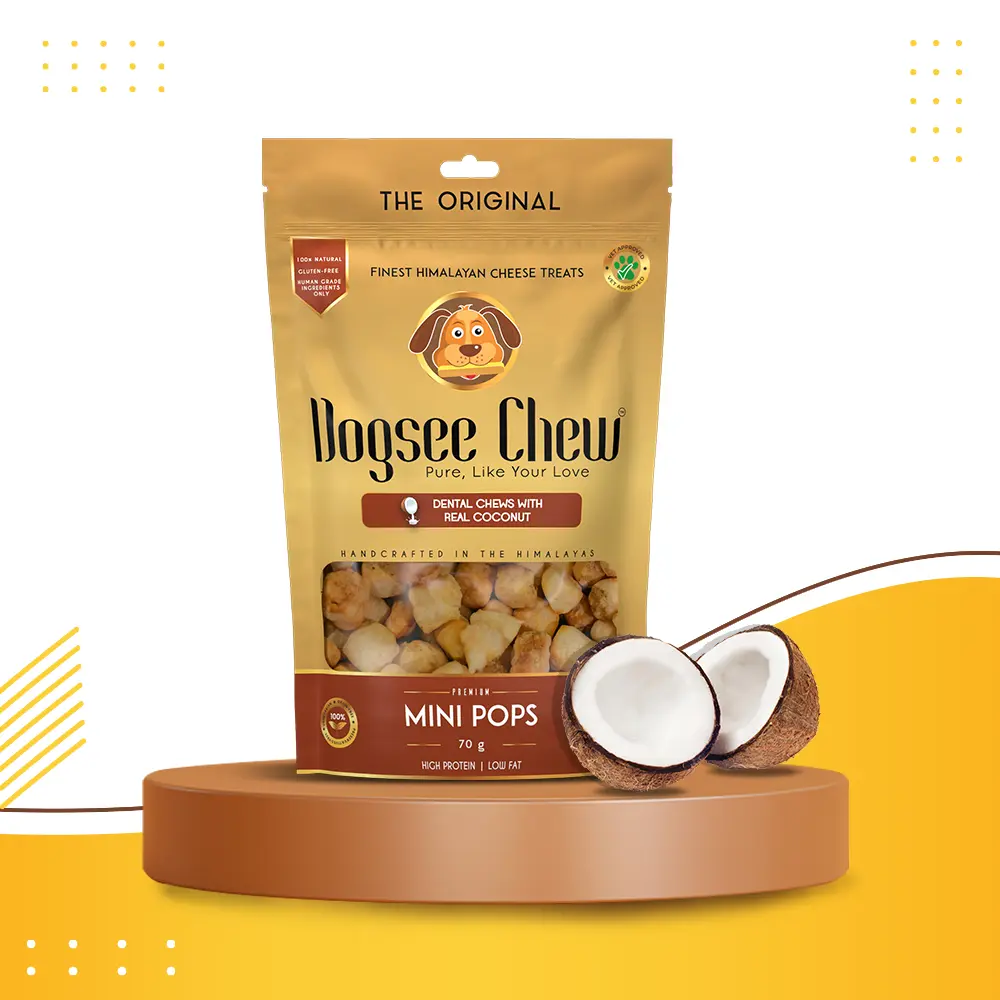 The best part about there's treats are :
They contain dietary fiber aids in preserving a healthy digestive system.

They contain high protein content and contribute to giving the body the energy it needs to focus during exercise.

They are low in Fat, so you don't have to be concerned about your dog putting on weight.
Buy Dogsee Crunch coconut mini-pops today!
It's always a fun time with coconuts for doggy care!
Having a fun bath time is super important for your dog care routines. Make sure you give your dog the best with Dogsee by giving them the best coconut shampoo for an amazing coat and skin. Don't forget to keep your little one healthy by treating them to delicious and natural coconut treats as well.
Here's the blog related to Coconut Dog Treats: Coconut for Dogs: 7 Health Benefits of Adding Coconut to Dog's Diet.
---
---