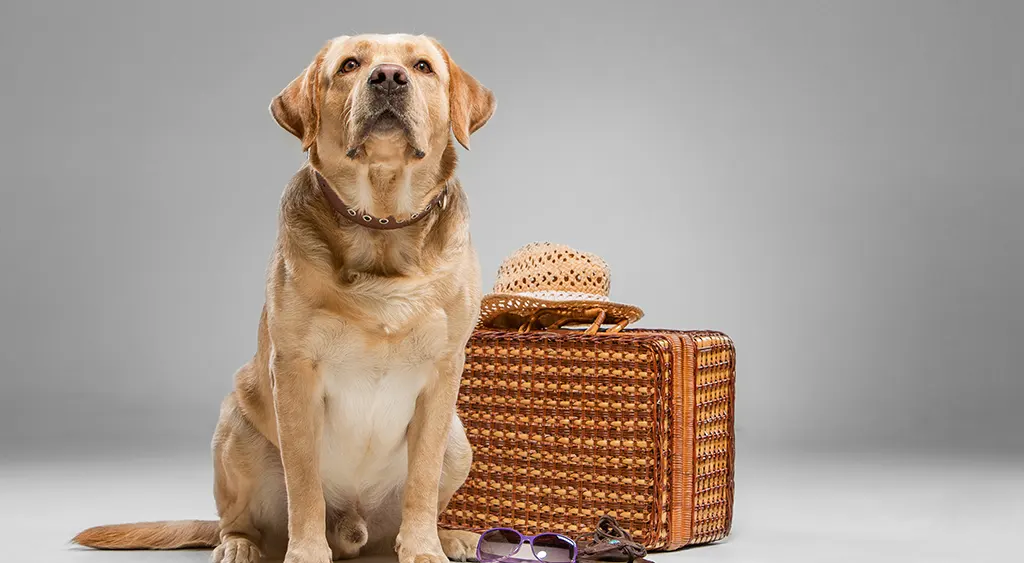 A recent study confirmed that vegetarian diets for dogs appear to be healthier and safer than traditional meat-based diets. According to The Guardian, a study done by Professor Andrew Knight at the University of Winchester found that vegan meals are healthier and safer for dogs if they are nutritionally balanced. Over 2,500 dogs' diets and health were tracked for a year using surveys completed by their owners. These looked at seven general health indicators, such as repeated vet visits and 22 common ailments.
According to the researchers, over half of the dogs fed traditional meat-based diets required non-routine medicine, whereas only a third of the dogs fed vegetarian diets did.
Knight said that the study was the largest one conducted so far and that the results revealed the healthiest and least hazardous dietary choices for dogs. He added that vegan diets are nutritionally the best option for dogs' diets. Although the dog diets that included meat did have a few health benefits, they were tried on younger dogs who had the advantage of a better metabolism. "A substantial body of prior studies has also shown that raw meat diets are much more contaminated with pathogenic bacteria and parasites," said Knight.
In a second study published in 2021, it was shown that dogs found vegan/ vegetarian food for dogs to be just as tasty as traditional dog food.
Another study, which was published in the journal Plos One, looked at 2,536 dog parents' responses to a single animal survey. Just over half of the animals were fed traditional meat-based diets; a third were fed raw meat; and 13% were vegan.
One of the findings was that 17% of dogs on conventional diets saw a vet four or more times in a year, compared to 9% of dogs on vegan/ veg diets and 8% of dogs on raw meat diets. The traditional diet resulted in 49% of dogs suffering from health problems, whereas the raw meat diet resulted in 43% and the vegetarian diet for dogs resulted in 36% of dogs suffering from health problems.
Although survey-based studies cannot identify the reasons for their findings, Knight noted that weight issues could be a significant factor. "One of the most common health problems for dogs is obesity, and when we conduct testing on commercial meat-based diets, we frequently find that there are more calories." We also know the health hazards associated with overconsumption of meat and dairy for people, and it's often the same ingredients, "he said, although pet food may contain meat that is declared unfit for human consumption in some countries.
"The key limitation of our study is that we didn't have a population of animals locked up in a research facility and fed vegan/ vegetarian food for dogs without any alteration," Knight said. "We studied what real dogs in normal homes ate and their health outcomes." It gives us a good indication of what the outcomes are for dogs in the real world. "
The president of the British Veterinary Association, Justine Shotton, said, "There is a lot of ongoing research in the field of vegan/ vegetarian diets for dogs, and this paper adds to the body of evidence supporting its benefits." However, there is currently a lack of robust data mapping the health consequences of feeding a vegan diet to a large number of dogs over many years, so we look forward to seeing further research on whether this can meet a dog's dietary requirements over the long term. " She also added that while they don't suggest it, it is technically feasible to feed a dog a vegetarian diet. If you're wondering if dogs can have only vegan/ vegetarian food, it is recommended that owners seek expert veterinarian advice to avoid dietary deficits and disease.
What Are The Health Benefits Of A Vegetarian Diet For Dogs?
The University of Vienna investigated the effects of a vegan diet on 20 dogs. The results showed that the dog's health did not suffer as a result of the diet adjustment. Because the study was only 6 months long, additional research in this area is needed, as certain results can only be seen over time.
1. Allergy: Even treats that are termed the healthiest treats for dogs can be harmful to them. According to scientists at Tufts University's Cummings Veterinary Medical Center, "Chicken, beef, dairy, and eggs are the most commonly reported food allergies in dogs." Many pet owners are surprised to learn that grains are a rare cause of food allergies in pets; most are allergic to animal proteins. " Rashes, dry and itchy skin, loose stool, constipation, gas, vomiting, eye discharge, yeast infections, and fur loss are all indications of food allergies in dogs. Long-term exposure to allergens is harmful to one's health since it weakens the immune system. Plant-based foods are naturally allergen-free, which means your dog can finally get some respite from those annoying symptoms.
Also Read: Healthy Treats for Puppies Under 3 Months
If you're searching for veggie treats for dogs that don't cause an allergic reaction in your pooch, check out Dogsee Crunch Beetroot.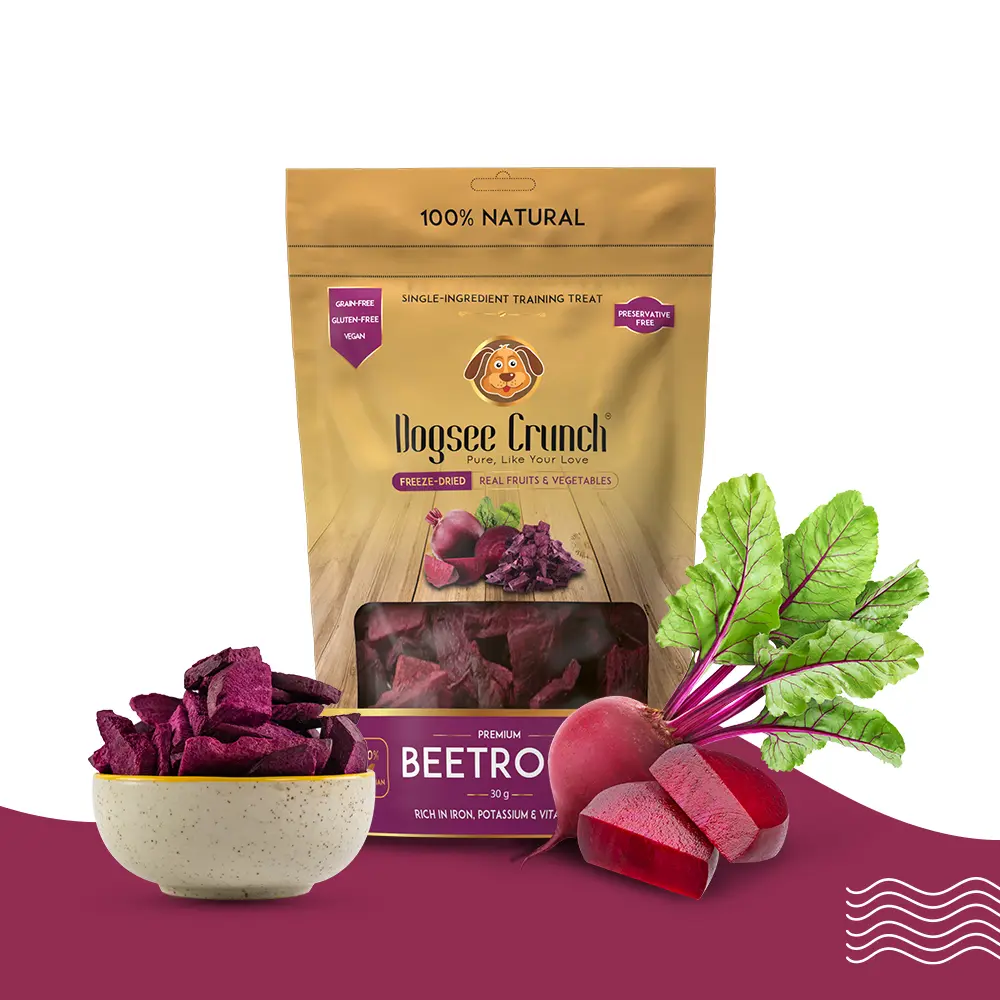 Dogsee Crunch's freeze-dried veggie dog treats will give your dog a boost of energy. These easy-to-feed beet dog treats are vegan and high in iron, which aids in the synthesis of haemoglobin and red blood cells. Potassium aids in the enhancement of immunity.
2. Easily Digestible: Vegetarian food for dogs is frequently used to aid dogs with a variety of digestive disorders, including loose stools, constipation, and gas. Meat-based dog foods, on the other hand, can be difficult for the digestive system due to the acidifying and inflammatory properties of animal protein. Vegetarian food for dogs is gentle on digestion and frequently free of irritating allergens, so it can help even the most sensitive dogs get rid of symptoms. Looking for hassle-free treats for your dog? Here are some mini pops that we're sure he'll fall in love with!
With Dogsee Chew's Coconut Mini Pops, you'll be ready to perform at your best during training. These super-delicious sweets are handcrafted in the Himalayas with real coconuts to make training a breeze. So, when you're repeatedly training orders, your dog will be eager to keep completing them just to receive another taste! These are the healthiest treats for dogs. These coconut training snacks are 100 percent natural, high in dietary fibre and protein, help maintain a healthy gut and offer energy, making training a nutritious and enjoyable experience.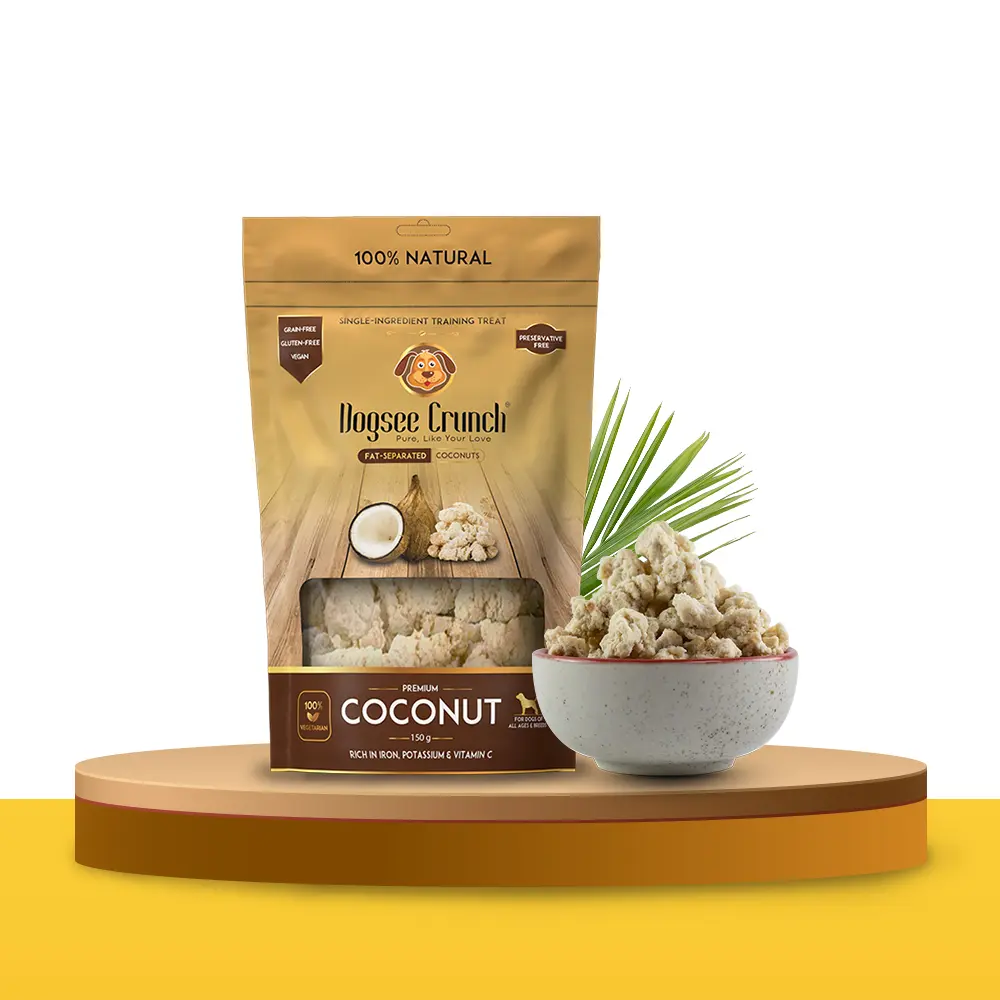 3. Anti-inflammatory: Vegetarian diets for dogs are naturally anti-inflammatory, which means they can help reduce joint pain and arthritis when compared to animal-based diets (making them an excellent fit for senior dogs). When dogs eat a vegan diet, their mobility improves, resulting in stronger muscles, longer walks, and more stamina at the dog park. Looking for the perfect veggie treats for dogs that are anti-inflammatory? We have the perfect ones picked out for you! Dogsee Crunch Coconut is the simplest treat that your dog will fall in love with!
Our coconut dog treats will make your little one go crazy! These vegan dog treats assist your dog to maintain a healthy gut by being fresh from selected farms. Puppies and dogs of all ages, breeds, and sizes will love them!
4. Weight Management: Vegan and vegetarian dog food recipes are an excellent choice for dogs who have problems maintaining a healthy weight since they are made with lean and readily digestible components. After making the switch, overweight dogs generally lose weight, allowing them to stay slim and live longer, more active lives. We've found amazing treats that not just taste good but also help with your dog's weight management. Dogsee Chews' Puffies are the best and healthiest treats your dogs are guaranteed to go gaga over!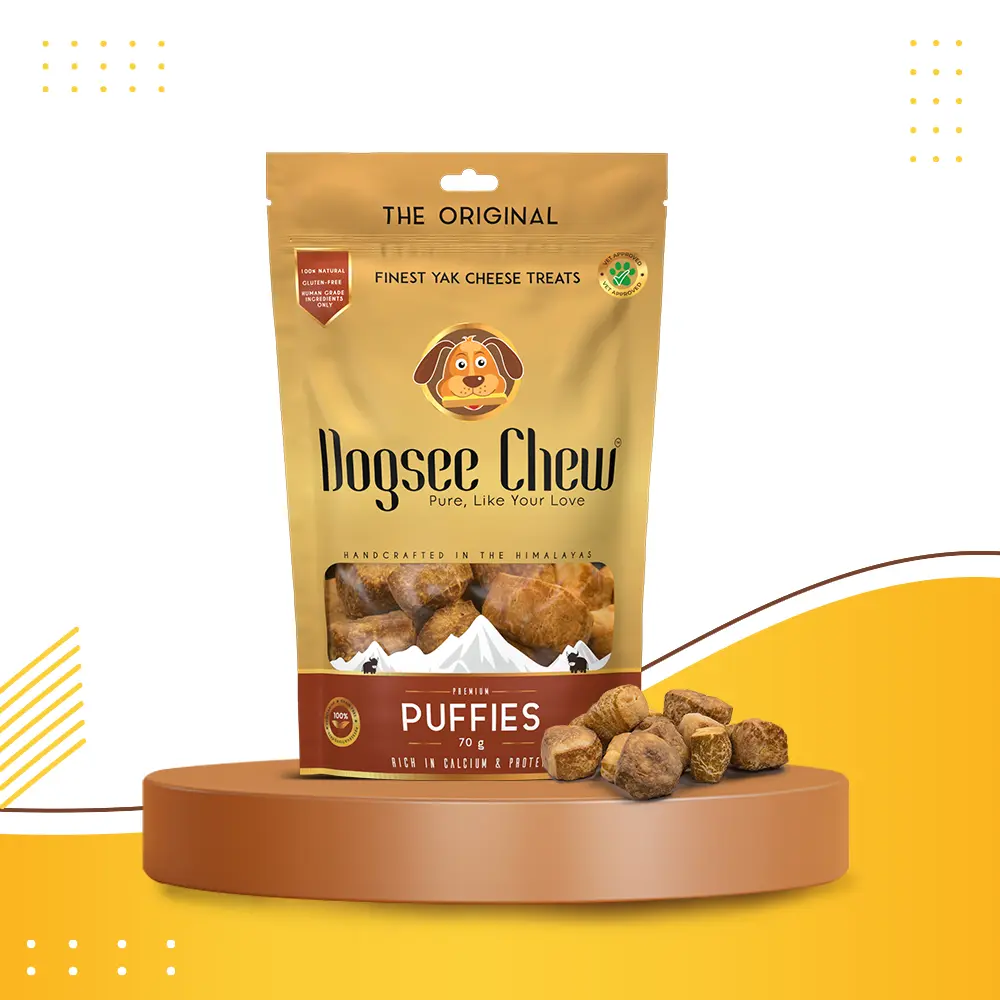 With Dogsee Chew's healthiest treats for dogs, you can make training sessions with your little one a lot more enjoyable. These cheesy soft dog treats are handcrafted and obtained from the Himalayas, then smoked and sun-dried for over 35 days to get the perfect flavour and texture. These treats turn crunchy when heated, which makes them ideal for puppy training. With their delectable cheesy flavour, your furry friend will go crazy for these easy-to-feed bite-sized goodies. In terms of nutrition, the healthiest dog treats are high in protein, which provides energy, and low in fat, which helps keep the dog's weight in check.
5. Improved Energy Levels: Because of the clean, readily available nourishment, switching your dog to a vegetarian diet for dogs can help them regain puppy-like vigour (without the negative effects of meat-based and byproduct-heavy food). Plant-based puppies generally experience an abundance of energy as a result of their new diets, contributing to a higher quality of life. If you're looking for some tasty chews for your dog to expend his extra energy, here is our top pick for you!
Dogsee Chews' Turmeric Hard Bars
Give your large-breed companion a boost in immunity while keeping them occupied with these long-lasting dental chews infused with turmeric. Turmeric is packed with potent antioxidants in these dental treats, providing joint, dental, and immune health support to keep your four-legged best friend happy and healthy. These have proven to be the healthiest treats for dogs that they will enjoy.
Conclusion
Well balanced plant-based diets have proven to be a better diet choice for dogs due to the studies conducted. It is advised that we switch our dogs to a balanced vegetarian diet. We also need to take care of their nutritional needs. When dogs are puppies, they need the utmost care and the best nutrition. Make sure that your pups' and dogs' nutritional needs that aren't met through their food are met through healthy vegetarian treats.
---
---