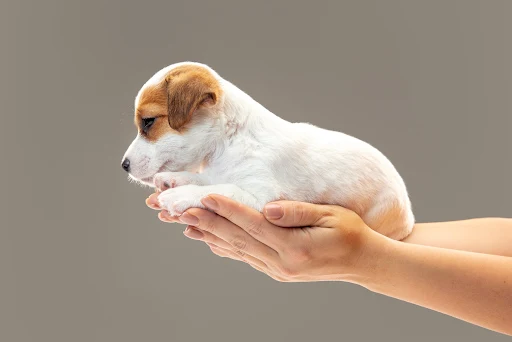 As a new dog parent, it's very important to consider training from day 1. A very important part of training is finding the best and healthiest treats for your young pup. You might be wondering what kind of treats you should use to train your puppy. There are a lot of different options out there, so it can be tough to know where to start. But don't worry - we're here to help!
In this blog post, we'll give you an overview of some of the most popular puppy training treats, as well as some tips on how to choose the right ones for your pup. We'll also provide some advice on how often to treat your puppy during training sessions.
So if you're ready to learn more about puppy training treats, read on!
Veg Puppy Treats
If you're a first-time dog parent, you may be wondering what kind of treats to give your new puppy. While there are many commercial puppy treats available, you may want to consider one that makes the most natural treats. Dogsee's delicious and natural dog treats are healthy for your pup. Sources from the freshest of orchards and healthiest yak and cow milk, Dogsee puppy treats are a perfect fit for your new pup! Just give them to your pup as a healthy snack or training reward.
Important Notes On How To Train A Pup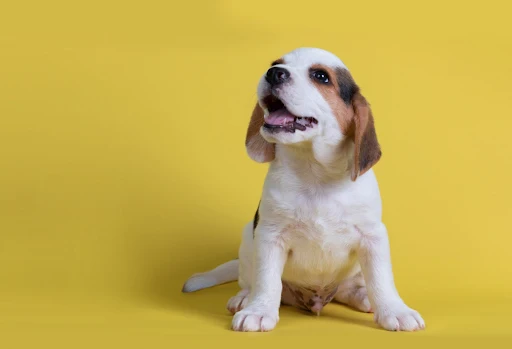 One of the most important things you can do when training your puppy is to use the right treats. This will help your puppy associate good behavior with getting a reward, and eventually, they will start to behave in the desired way even without being given a treat.

Giving your puppy the wrong kind of treat can actually do more harm than good. Avoid giving your puppy sugary treats like candy or cake, as this can lead to obesity and other health problems down the road. Instead, opt for healthy, low-calorie treats that are specifically for puppies, such as veggie-based treats. These kinds of treats are not only good for your puppy's health, but they will also help them stay focused during training sessions.

Ideally, dog chews and treats should make up 5% to 10% or less of your dog's daily diet. The number of treats for dogs varies based on their weight and activity level. If you need to use treats frequently for training, make sure you use the healthiest puppy treats and Himalayan dog training treats. Usually, dogs meet their required amount of nutrients in a day through healthy dog treats. Ensure that your dog gets the most delicious puppy snacks and dog chews.
Dogsee Chew is typically where parents buy the most all-natural, minimally processed dog treats in the right sizes. Not only are these snacks and training treats safe for dogs, but they are also incredibly nutritious! We've chosen the greatest dog treats for you if you're looking for healthy options!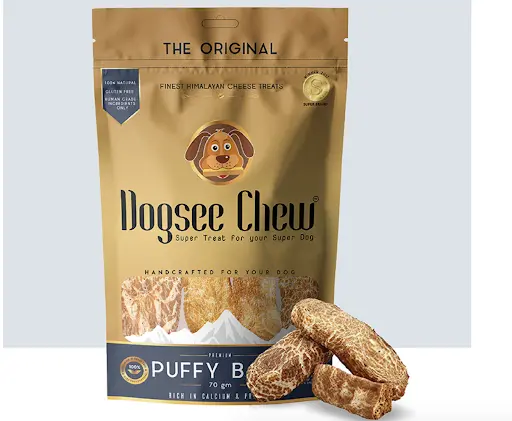 This treat is excellent for your dog if they love cheese! When it comes to finding healthy snacks for your dog, we at Dogsee Chew truly understand your frustration. The puffy bars from Dogsee Chews are the best dog treats for your puppy since they are simple to chew and digest. The best yak cheese is taken from the Himalayas, smoked, and sun-dried to achieve a rich flavour and texture.
These treats are made of 3 simple ingredients- Milk, a dash of lime, and a pinch of salt. When it comes to their nutritional composition these Himalayan dog treats contain
Crude Protein: Min 59.2%

Crude Fat: Min 5.2%

Moisture: Max 10%

Fibre: Min 5.9%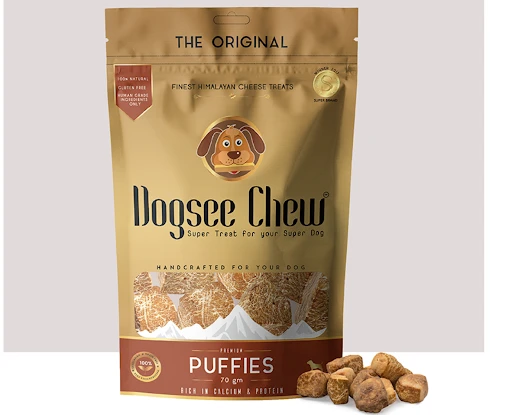 These dog treats will make training sessions more enjoyable and rewarding for your pups. Make sure your dogs' nutritional needs are satisfied with one of Dogsee Chews' top dog treats. The best and finest cheese from the Himalayas is sourced, smoked, and sun-dried for incredible texture and flavour. They make for a stress-free training session as they are bite-sized.
These puppy snacks are made of 3 simple ingredients- Milk, a dash of lime, and a pinch of salt. When it comes to their nutritional composition they contain
Crude Protein: Min 59.2%

Crude Fat: Min 5.2%

Moisture: Max 10%

Fibre: Min 5.9%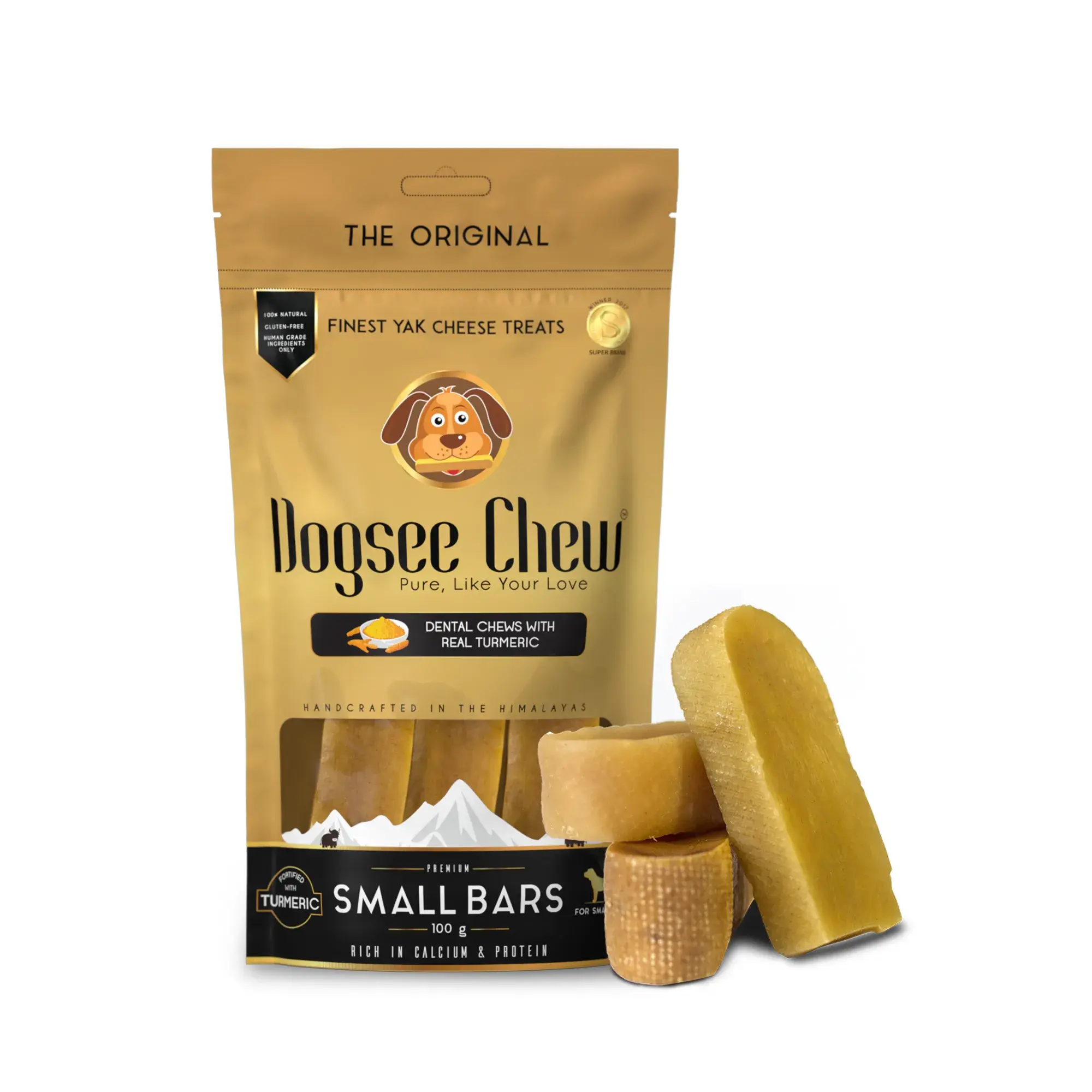 A nutrient-dense treat that is suitable for dogs of all sizes. These turmeric bars are just what your dog needs to keep their teeth in good shape. These puppy chew sticks include Turmeric, which relieves joint discomfort and builds a strong immune system in your dog, making them the ideal healthy dog treat.
Made from dried Himalayan cheese and real turmeric these bars help as they are
Rich in the therapeutic properties of Turmeric.

Lasts a long time keeping your dog engaged.

The rich cheesy flavour keeps your dog's breath fresh.
Check out Little Sweven enjoying his dog chew bar!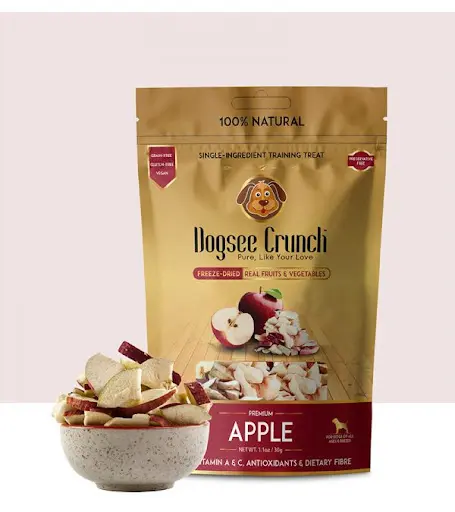 Introducing mouthwatering apple dog treats from the finest orchards to give your dog's taste buds a surprise. Your dog will benefit from these finest dog training treats with healthy skin and a lustrous coat. In contrast to mass-produced dog treats that are excessively processed with chemicals, these single-ingredient snacks are a healthier alternative to treats because they are prepared from natural apple slices without any additional colours, chemicals, or preservatives. These apple snacks are versatile and can be given to your doggo to show extra love, as a teaching tool, or as a reward for good behavior.
The best part about these health treats are that they are made of just one ingredient- Apple!
If you're wondering what benefits apple treats may have on you doggo check out our blog: Why Should You Buy Freeze Dried Crunch Apple Dog Treats from Dogsee Chew?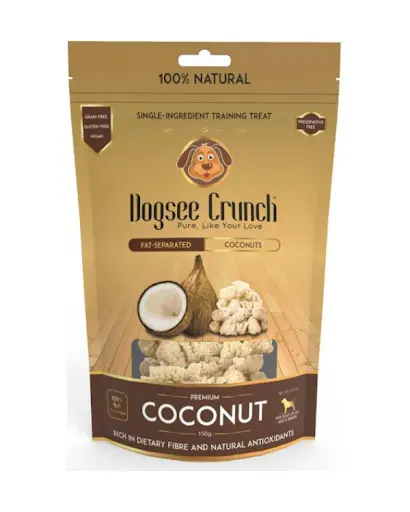 Dogsee Chew's Coconut Mini Pops will help you be at your best throughout training. These incredibly tasty snacks are carefully made in the Himalayas using real coconuts, which makes training much easier. As a result, when you repeatedly practice commands, your dog will be content to comply just to obtain another taste! These coconut training snacks are 100% natural, high in protein and dietary fibre, and they support intestinal health and energy levels, making exercise enjoyable and nutritious.
Wondering how much nutrients your coconut treats are actually contributing? These treats have Crude Protein: Min 59.2% Crude Fat: Min 5.2% Fibre: Min 5.9% Moisture: Max 10.0 %
Conclusion
As you can see, there are a lot of different puppy training treats available for first-time dog parents. It's important to find the right treat for your pup, based on their size, age, and individual preferences. With a little patience and a lot of Dogsee treats, you'll be sure to find the perfect treat to help your pup learn all the tricks of the trade!
Also Read: Which natural dog chews are healthy & safest for dogs and why?
---
---